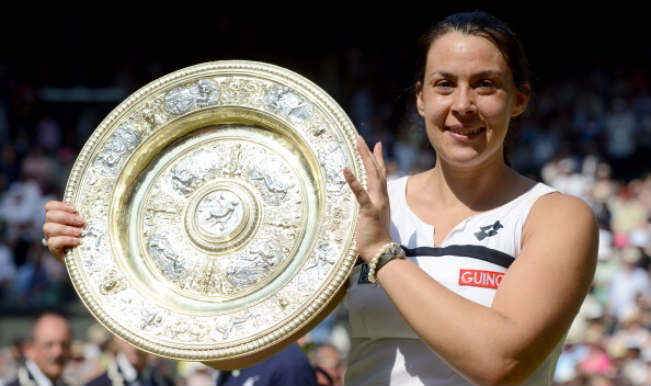 After our look back at last five Men's Championships we now bring to you the Women's version of the Grand Slam tournament's last five Championships.
2013 Winner: Marion Bartoli
Last year in the finals French Marion Bartoli and German Sabine Lisicki squared off against each other for the title. Bartoli went on to win in straight sets 6-1, 6-4 and lifted her first Wimbledon trophy. She became the sixth player in Open era to win a Wimbledon without dropping a set.
2012 Winner: Serena Williams
In 2012 Serena Williams faced Poland's Agnieszka Radwanska in the finals. S. Williams defeated Agnieszka 6-1, 5-7, 6-2 to take home her fifth Wimbledon title and 14th major overall title. Prior to event Williams was almost a year out of action between summer 2010 and 2011 with a leg injury and subsequent pulmonary embolism.
2011 Winner: Petra Kvitova
The then eighth seed Petra Kvitova pitted against former champion Maria Sharapova in the finals of 2011. Kvitova came into the match as underdog and stunned everyone when she defeated Sharapova in straight sets 6-3, 6-4 to win her first Grand Slam title at Wimbledon. She became the first Czech since Jana Novotna in 1998 to win Wimbledon.
2010 Winner: Serena Williams
In 2010 defending champion Serena Williams successfully defended her title with a 6-3, 6-2 win over Vera Zvonareva in the final. It was the first Grand Slam final for Zvonareva and it lasted only 67 minutes such was Serena's class that the Russian had no answers to her.
2009 Winner: Serena Williams
2009 Women's singles final saw sister battling it out against sister. Defending champion Venus Williams was up against her younger sister Serena Williams. The junior Williams showed no respect whatsoever to defeat her elder sister in straight sets 7-6, 6-2. This was Serena's third Wimbledon which she regained after a gap of six years.