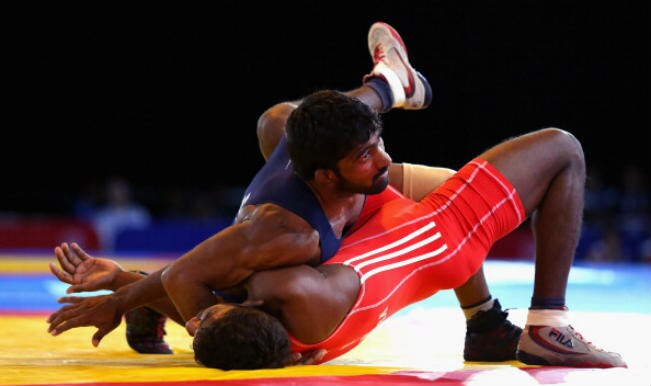 One of the most fierced yet the humblest wrestlers known, Yogeshwar Dutt brought more accolades for the country as he downed Canadian J Balfour to take the gold medal in the Men's Free Style 65 kg category event. Yogeshwar who has been on a roll in all his match played on Day 8 of the Commonwealth Games, made a mockery of his opponent finishing the match in 2 minutes.
Yogeshwar Dutt did not waste much time as he won the total of 10 points to take the finals by technical superiority. Before his opponent could get the grasp of being in finals he was knocked down by raw power of Yogeshwar Dutt. He was congratulated by ace wrestler Sushil Kumar who was in stands to cheer Yogeshwar.
There was no sweat breaking for Yogeshwar Dutt as he dominated the entire day 8. He plummeted his opponent Chamara Perera of Sri Lanka to enter the finals with another win on technical superiority. Earlier on Day 8. India's Wrestler Babita Kumari won the first gold of the day as she defeated B. Laverdure of Canada Women's Free Style 55 kg category event.
Yogeshwar Dutt who has been the bronze medallist in the London Olympics 2012, with this gold medal retains the Men's Free Style 65 kg category event title. He had won in 2010 Commonwealth Games in Delhi.
With this gold medal India is at par with Canada in the gold medal numbers in wrestling events. India also takes their medal tally to 45 with 12 gold, 20 silver and 13 bronze including.
Get Commonwealth Games 2014 Complete Schedule of Indian Players Here