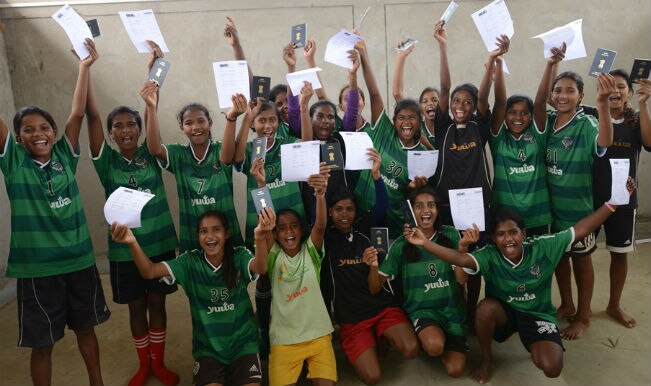 Football is perhaps the second biggest followed sports in India after our beloved cricket. Every guy remembers staying up late at night watching their favorite team play. We all have the childhood memory of playing football through heavy rains and enjoying every minute of being washed with water and mud alike. The craze is easily seen through social media and even various sports pubs and the various stores too. However one place where this madness is hardly seen is in our country's sports association. Like all the other games, football too has little importance here.
However, once in every blue moon there comes a player or a team that changes this history. Last year around this time there came one such story when a group of young girls from Jharkhand outshined in the Spain tournament. The members of Yuwa Football Club which consists mostly of poor girls of 12 to 14 years of age came third among 10 all-girls teams from Spain in the Gasteiz Cup in Spain on July 13, 2013. It was their first trip outside India, even outside Ranchi, their home, and the shines bright. The team's guru and the founder and Executive Director of Yuwa-India is Franz Gastler, a 30-year old American who came to Jharkhand four years back to teach in villages, is the reason behind their successful start.
But in the end that is what it is, a start. This start gave the young girls the courage to dream, and dream big. So, in a country where any sports except cricket is hardly ever noticed, these girls have dreamed to go to the United States Of America to play the USA Cup, and guess what their biggest obstacle is? Money it is! So here is your chance to contribute to represent your country in USA, your chance to make football popular. Simply donate for this cause, or even spread the word around, because a spark is all they need. Here is a beautiful ad of Yuwa Football Club to touch your hearts.
https://www.youtube.com/watch?v=BgOAhsDvj_Q
If you feel the need to contribute, here is the link to donate for them, #YuwaforUSA