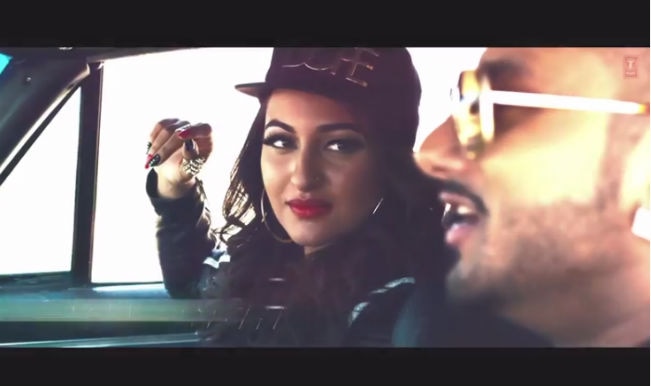 Rapper Yo Yo Honey Singh is back with his new project featuring Holiday star Sonakshi Sinha. T-Series present to you the exclusive teaser of Yo Yo Honey Singh's latest song Desi Kalakaar featuring Sonakshi Sinha. This teaser (short film) has both Yo Yo and Sona in a high speed car chase police cars and helicopters hovering over them.
Honey Singh is sporting his trademark huge glares and smirky look, but Sonakshi Sinha is looking ravishing after a glamorous makeover. She is sporting some quirky makeup, bold lipstick, a baseball cap and a cool jacket. She has also paired some trendy accessories; huge hoops in ears and a very antique looking ring. Although she is usually seen in traditional wear, this new look is complimenting her really well, we are totally waiting for the whole song!
Sonakshi Sinha who seems to be very excited about the song, took to Twitter to share the teaser. She tweeted, "Issey Khete hai teaser teaser… Desi Kalakaar. First look. Watch.."
Issey kehte hai teaser teaser… Desi Kalakaar. First look. Watch. https://t.co/TWtYDPr8KT @asliyoyo @directorgifty

— Sonakshi Sinha (@sonakshisinha) August 16, 2014

Brace yourself and catch up with the new teaser of Desi Kalakaar here!