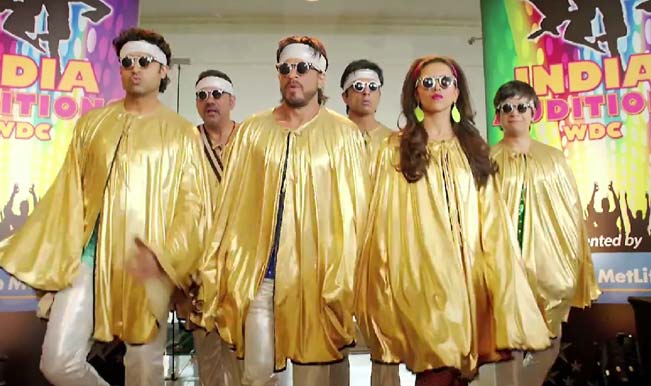 The trailer of Shah Rukh Khan's much awaited Happy New Year is finally out after days of buzz and drama! And after days of waiting for the trailer, if you expected something spectacular than we are sorry, you are in for a BIG let down by Farah Khan. The longest trailer ever released with running time of over three minutes is like a drab chocolate in shiny cover! Happy New Year trailer starts off with Shah Rukh Khan flaunting his golden colour streak as Charlie – the main leader of the bunch of losers who mouths monologue on two types of people existing in this world – winners and losers! When the trailer itself says this to be a journey of '6 losers' who are we to call them anything else. The losers come together to pull off the biggest heist in the world! Yes, Mr. George Clooney, Tom Cruise and Brad Pitt – please move aside as Indiawaale are coming to take the stage!
The trailer was always going to be this long as Shah Rukh Khan wanted to give equal attention to all the characters – Charlie, the mastermind and pack leader. Deepika Padukone plays Mohini, a dancer who has forgotten how to act! Abhishek Bachchan is 'English speaking' Nandu and looks cute as he impersonates his father Amitabh Bachchan's yesteryear scene of saying 'English, English'. Sonu Sood takes  a potshot at all the masala flicks with his shirt-tearing act while Boman Irani is the stud as cool Tammy along with the youngest member of this group Vivaan Shah as geeky yet smart Rohan.
The story of Happy New Year revolves around this World Dance Competition where this bunch of 6 immature dancers take part with the hidden motive of carrying put the biggest theft the world has witnessed! Yawn. The best part of the trailer? The prime and exotic locations, the over-the-top glamorous actors, props, set and slap-stick comedy – something that is expected of Farah Khan and Shah Rukh Khan collaboration! And Shah Rukh Khan assures you are not in for something new but recycled story as he repeats the dialogue from their previous film Om Shanti Om – "Yeh toh sirf trailer hai, picture abhi baaki hai!"
If the trailer is something to go by, the film is not something that will add sparkle to your Diwali.