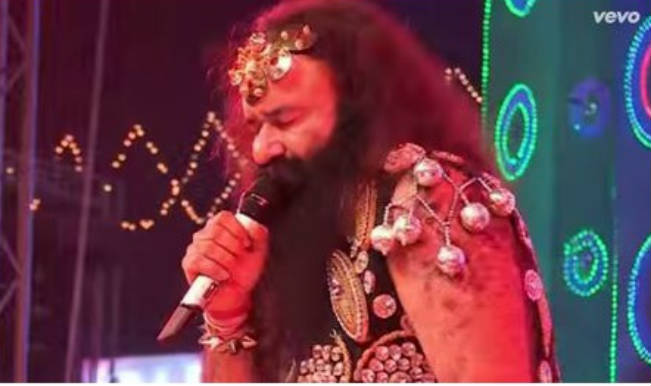 A spiritual leader is very different from a rockstar, as many people would agree. Trust only our country to prove that wrong!
If western music has Justin Bieber, wait till you see the newest Indian music sensation – a preacher from a religious cult that is equally known for its controversy as it is for its work in the field.
Gurmeet Ram Rahim Singh heads the Dera Sacha Sauda, and if it is to be believed, he has completed performing at a hundred rock shows AND has a brand new album just for us! But first, let's talk about these concerts. Very recently, he held his two more concerts, in addition to his hundred. These were at the Jawaharlal Nehru Stadium and the Ramlila Maidan in New Delhi. Footage from the videos, and of course his spokesperson attest to the fact that the places were full of his devotees and fans.
So how exactly are these religious rock concerts? We took a look at the video link below. This particular video had him performing a song called 'Love Charger'. Enough said. Everyone at the venue seemed to be having the time of their lives in the video taken, dancing freely to the beat. He even performs a headbanging move on stage, much to the delight of the people there. With his really shiny costume, he clearly doesn't need to stand out more.
He is referred to ask Gurmeet Ram Rahim Singhji Insan, and his  latest album, titled "Highway Love Charger" has apparently sold almost thirty lakh copies in three days – a new world record!
The music, which forms an entirely new genre title 'religious rock', is being used by Singhji to educate people on social evils, especially the youth. According to his spokesperson, he is trying to serve the society through his work. He writes the lyrics to the songs and composes them too, besides performing.
And how does the world know of him? With a hit song from his album, called 'Love Charger', he has made an impact on the internet! But reactions have varied, from criticism to praise. But the song is memorable – and catchy. I mean, can you forget "You are my love charger" over and over again?
So if you want to check out the video, that describes Singhji as the highest selling artiste in the history of Indian music industry EVER!
Watch the video below!