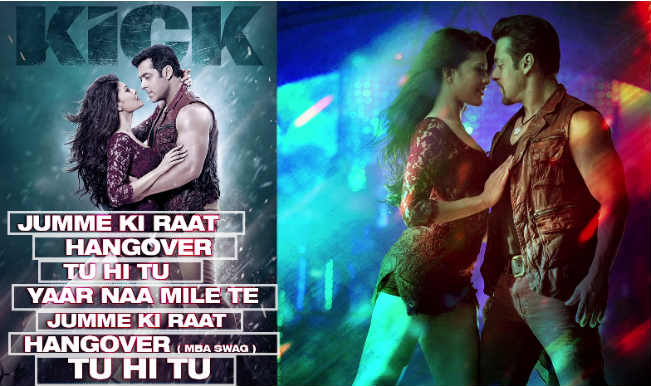 The music of the Salman Khan starrer 'Kick' reinforces the fact that 'all that glitter is not gold'. When the trailer of the movie was released, the music by Himesh Reshammiya seemed to be the USP of the movie. The music stands nowhere near to the Salman's previous albums, Ek Tha Tiger, Dabbang, Wanted and Bodyguard  which are among the best albums of Salman Khan. The major strength of a commercial movie has always been its music. Kick tumbles a bit in this section.
The album starts with energetic 'Jumme Ki Raat' sung by Mika Singh and Palak Muchhal. The song has garnered some positive reviews from the audience, but it was rated average by the critics. Shot lavishly, the video of this song maintained the buzz created by the trailer.
The next song of the movie 'Hangover' sung by the megastar Salman Khan is supported by Meet Bros and Shreya Ghoshal, this number will not add any zing to the buzz of the movie. It sounds just like any other ordinary track, clearly deprived of the 'wow' factor. Salman Khan is just passable as a singer in this one.
The album proceeds with a romantic track 'Tu hi tu', sung by Mohammad Irfan. His last track 'Banjaara' from 'Ek Villain' was certainly a benchmark song of his career. Tu hi tu excels the rest songs, but it is not even remotely close to the tune of 'I Love You' or 'Tere Mast Mast Do Nain'.
Yo Yo Honey Singh has become a mandatory inclusion in every big-budget film. The next song in the album is 'Yaar Naa Mile Te' by Honey Singh and Jasmine Sandlas. But when you hear the song, you will get to know that it's Jasmine all the way. We do not get the Yo Yo feel in this song at all. Because of this, the song may not enjoy the tag of chart-buster as previous Honey Singh's songs.
Apart from these four original songs, the album consists of three remixes; Jumme Ki Raat, Hangover (MBA Swag) and Tu Hi Tu. The unplugged version of Tu Hi Tu has been sung by Salman Khan, and he has really let us down in this one!
On the whole, Kick is a dull album by Himesh Rehammiya. Barring Tu Hi Tu, none of the songs live up to the benchmark set by the trailer. This can hamper the huge buzz created by the initial promos of the movie.
Rating- 2/5