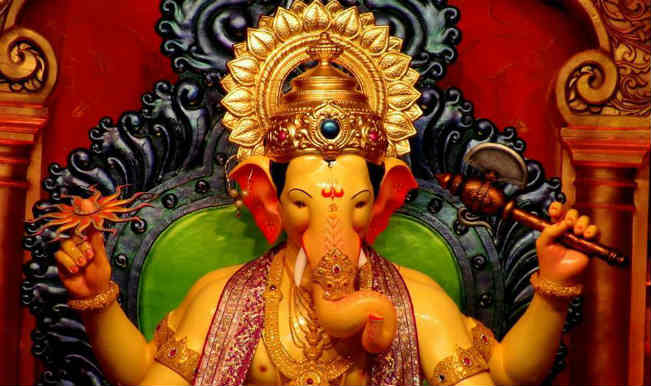 The Lalbaugcha Raja Ganpati idol holds a special place for the devotees in Mumbai as they welcome the elephant God on Ganesh Chaturti which is celebrated across Maharashtra and the world. The 11-day Ganpati festival begins from August 29, 2014 this year and will end on Annant Chaturdashi with the immersion of the idols. Lalbaugcha Raja turns 80 this year.
The idol which is known as Lalbaugcha Raja especially due to the name of the place is also known as Sarvajanik Ganpati which means it is for the masses. Raja is also known as "one who fulfills wishes" hence some call it Navsacha Ganpati.
Devotees wait in queues for hours together and sometimes overnight to get a glimpse of the Raja and do the mukh darshan.  Lalbaugcha Raja is not a shrine but a community organised festival. Huge crowds come to visit Lord Ganesha and at times it takes over 20 hours to reach the idol. Everyone from a common Mumbaikar to Bollywood superstars pay their obeisance and seek blessings from the Raja. The organisers – Lalbaug Sarvajanik Ganeshostav Mandal have started a Mukh Darshan Ceremony (Lalbaugcha Raja's first look) a few days prior to the main event.
Read: Ganesh Chaturthi SMSes: 10 Best Ganpati Festival WhatsApp & Facebook Messages for Ganesh Chaturthi 2014
The Lalbaug Sarvajanik Ganeshostav Mandal which organises the festival and takes care of the arrangement was founded in 1934. There is interesting story behind how the celebrations began. In 1934 a market place at Peru Chawl was shut down in 1932 because of which vendors and fishermen who used to sit in the open prayed to Lord Ganesh for a permanent place to set up their market. Soon after they received a plot for construction of a market. Since then the local resident came together and started celebrating Ganesh Chaturthi.
The Lalbaug Sarvajanik Ganeshostav Mandal was formed at the peak of freedom struggle. The festival was introduced by the Indian freedom fighter and social worker Lokmanya Tilak to encourage social gathering during the British era, as they opposed any social meetings.
Watch the Live Streaming of Lalbaugcha Raja 2014 and do Online Mukh Darshan. Be a Part of Daily Aarti of Lalbaugcha Raja During Ganesh Festival 2014 here