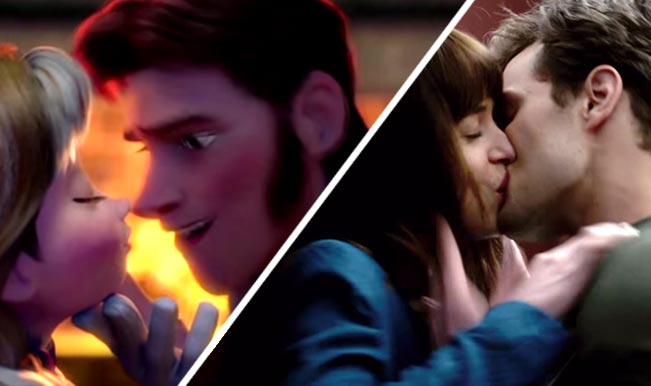 If you thought watching the first trailer of romantic-erotic drama Fifty Shades of Grey was grim, brace yourselves for the Fifty Shades of Frozen trailer – a mashup of Frozen with Fifty Shades of Grey! You cannot call it a masterpiece as the dark and adult concept of the former movie mixed with Walt Disney produced animated musical fantasy-comedy film a tad too pukey!
In this video, the dialogues of erotic movie Fifty Shades of Grey has been laid over scenes from the Disney animated film Frozen. After watching this mash-up of the two world apart movies leaves you with one question in mind – Why? The rip off video Fifty Shades of Frozen has come out so convincing that it kills off the innocence of the 2013 release.
You have to watch it to believe Anna, the 18-year-old Princess  of Arendelle as Anastasia "Ana" Steele of Fifty Shades of Grey, while Prince Hans from Frozen is the dark business magnate Christian Grey. No points for the smile that comes to your face when you see a bubbling Rapunzel in the role of the secretary for a moment!
Watch the darker and steamier romantic tale of Hans and Anna!