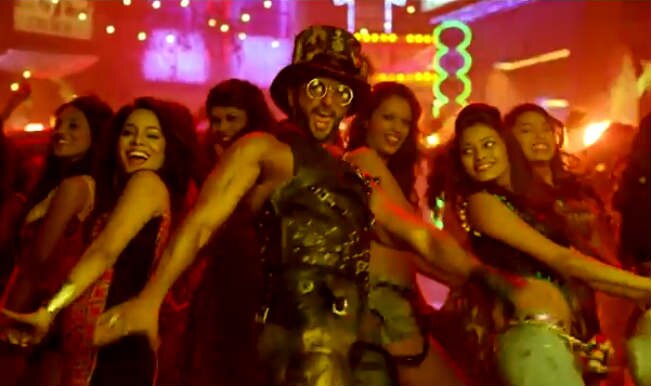 Before the release of Ranveer Ching, Ranveer took to twitter and excitedly posted the first dazzling poster and captioned it, "Bhonpu Bajake…Jhonka Lagake…Hunger ki Bajao!!!". Ranveer Singh is known for doing something hatke every time he starts a new project. The last time he appeared in a commercial, he made girls go weak in their knees with his 'Do The Rex condom' commercial. Now Ranveer is featuring in Chinese food brand commercial, Ching's Secret Presents, A Con Hai? Films Production "My Name is Ranveer Ching".
This commercial reeks of  Ranveer Singh's trademark  quirky and loud style. Although he is known for his vibrant personality, love it or hate it, but you definitely cannot ignore it attitude, this schezwani , muh mein pani ad did not live up to our expectations. Although Ranveer dazzles on the Ranveer Ching ad spot, the commercial as a whole seems very much forced.
The over the top video has been directed by Shaad Ali with music composed by Shankar Ehsaan Loy and lyrics by Gulzar, this high-energy video has been choreographed by Ganesh Acharya. The video is a very hodge-podge, the open rickshaw, bright lights, Ranveer's costumes and yellow shades put together is overbearing.The shcezwani zinger effect has been brought to life by none other than Arijit Singh. Ranveer Singh is doing what he does best, by being loud and eccentric but it does not help with how boring and lame the commercial is. After a point we wonder why the ad spot was dragged to 3 minutes!
So when compared to his previous 'Do The Rex', we are disappointed with this Manchow Rap. If you have missed out on the commercial, check it out here and do let us know how do you like it.