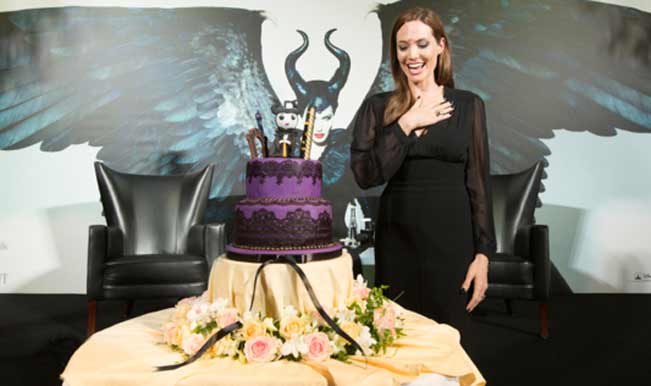 Born on June 4, 1975 Angelina Jolie is one of the highest paid actresses in Hollywood. The notably beautiful actress has been cited as the world's most beautiful woman title. As she turns 39 today we share with you something special. While promotion of her new movie, when the event date coincided with her birthday she received a small gesture in Maleficent themed birthday celebration!
With her recent movie where she is playing a vindictive fairy she is busy promoting the movie. This movie is the untold story of Disney's most iconic villain from the classic 'Sleeping Beauty'. The idea of playing the character scared her since Sleeping Beauty was everyone's famous childhood story. And indeed it meant delivering a big performance. Not that Angelina Jolie has not yet given any extraordinary performances till now, she is known for her unconventional roles. But as an artist she was a bit shy to take up this role. Watch her talk about her experience of working with her daughter.
During a visit to Shanghai to promote the film she was presented with a Maleficent birthday cake though a little early it was a nice gesture to celebrate her birthday!
Watch the video below!