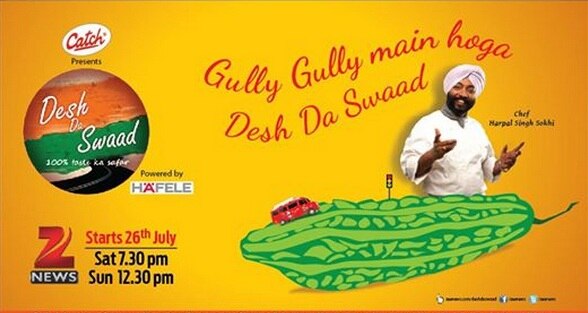 Zee has always managed to surprise their audience with their distinctive and out of the box content. The launch of the Zindagi channel showcasing Pakistani soaps were a proof of the pudding. An addition to their already existing range of high-quality content shows is the cookery travel show "Desh Da Swaad".
Well, this cookery show is not just confined to kitchen corners, Souki the host, the cook and the traveler, travels the breadth and length of the country and fishes out various delicacies of the country.
In the promotion, he is seen in Srinagar enjoying the nature in all its essence between snow clad mountains and still waters. Describing the place as heaven on earth he is seen relishing each aspect of the place and the local food.
He gets along greatly with the locals and roles out tandoors on his own and bakes them in the traditional fire burner. Although the promotion is a quick sneak peek in to the show, it tells you that the show has a lot to offer. So every Saturday watch Desh Da Swaad with Souki on Zee News for the complete feature with breath taking views and mouth watering dishes.