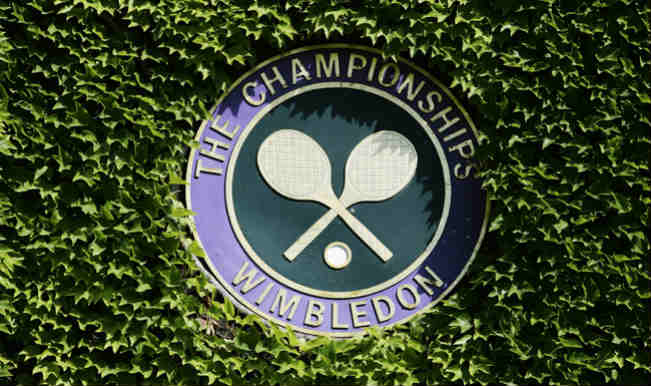 Wimbledon is one of the four Grand Slam tennis tournaments held every year and remains the only Grand Slam to be played on the sport's original surface grass. Wimbledon has been in existence over a century and is the oldest international tennis tournament. We have decided to roll out some more interesting facts as the significant tournament gets underway
1. It was year 1877 when Wimbledon began at the All England Club in London. The event is now 137-year old.
2. Wimbledon first started as only Gentlemen's Single Championship and featured only 22 players.
3. The Grand Slam has been interrupted twice till date due to World Wars. Once in World War I, 1915-18 and then in World War II, 1940-45.
4. In 1884 Ladies Single Championship and Gentlemen's Double were introduced in Wimbledon.
5. The first winner of Wimbledon Gentlemen's Singles was Spencer Gore. He defeated William Marshall in straight sets. Spencer also played Cricket for Surrey County Club.
6. The first winner of Ladies Single Championship was Maud Watson. She defeated L. Watson in straight sets.
7. The winners of first Wimbledon Gentlemen's Double were twin brothers J.E. Renshaw and W.C. Renshaw. The pair won the men's doubles at Wimbledon five times.
8. In 1913 the Ladies' Double and Mixed Double tournament were introduced in Wimbledon.
9. Winifred McNair and Dora Boothby were the winners of first Wimbledon Ladies' Double.
10. The winners of first Wimbledon Mixed Double were Hope Crisp and Agnes Tuckey.
11. Czech-born American Martina Navratilova has won most Wimbledon Women Singles titles (9). She was known for her speed, aggression and flexibility.
12. At the age of 15 years, 282 days Martina Hingis became the youngest player to win a Wimbledon title, by winning doubles championship in 1996.
13. Willie Renshaw, Pete Sampras and Roger Federer hold the record of winning the Wimbledon Men's Singles most times, i.e. seven titles.
14. The Ladies' Single Trophy of Wimbledon is called 'Rosewater Dish' or 'Venus Rosewater Dish'.
15. 250 Ball Boys and Girls are selected for Wimbledon. Many of them spend two years as a BBG. The average age of BBG's 15 years.
16. There is a strict dress code in place at Wimbledon. Players must wear all-white clothing.