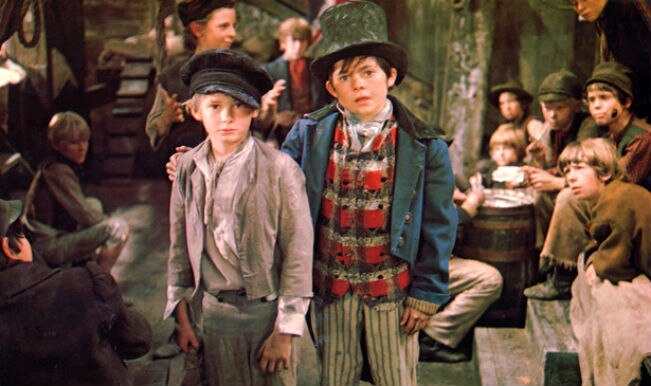 Musicals are some of the most entertaining movies (though  many of them are based on plays) to watch, they combine fancy costumes, catchy show tunes, dancing and the feel of watching a live performance. They are also very difficult to write and require a huge amount of talent with regard to performance as compared to other movies. Some of the best musical movies (according to us) are:
1) Singing in the Rain (1952)- This movie is considered to be the greatest musical ever made. It was directed by and is starring Gene Kelly as Don Lockwood. It's set in the 1920s during the transition from silent film to talking films, also known as "talkies". Don Lockwood is an extremely successful actor of the silent era he is often romantically paired with Lina Lamont (who believes the rumours herself) though he, and his best friend Cosmo despise her. Lockwood accidentally runs into Kathy Seldon, who claims to hate movies, and considers herself better because she's a stage actress, despite being offended Lockwood starts to fall for Kathy. The studio they work for decides to shoot their newest film with sound, due to the success of The Jazz Singer, the only problem is Lina Lamont's high pitched voice. This movie has some really catch songs like Singing in the Rain and Good Morning, Good Morning to you. It's also extremely funny.
2) Oliver! (1968)-  This movie is a musical based on Charles Dickens's classic novel Oliver Twist. It's about a young orphan's life after he's sold by an orphanage after asking for more food. He finds his way into a band of pickpockets in London under Fagin after meeting another young boy named Dodger in London. He also meets the dreaded Bill Sykes. This movie has some amazing songs, some of which are famous in their own right, like Food Glorious Food, Consider Yourself, It's a Fine Life and We'll be Back Soon. This movie retains Dickens's message, i.e. the suffering of poor children in 19th Century England and their eventual turning to a life of crime.
3) The Wizard of Oz (1939)- This is based on the book The Wonderful Wizard of Oz by L. Frank Baum. It was one of the first colour movies ever made. It's the story of a young girl named Dorothy and her struggle to get home from the magical land of Oz after landing up there following a Tornado. The only way she can get back to Kansas (her home) is with the help of the Wizard of Oz, on her quest to find him she comes across a scarecrow who wants a brain, a tinman who wants a heart and a lion who wants courage. Dorothy and her new found allies have made an enemy of the Wicked Witch of the West after crushing her sister under her house. This movie's most popular songs are, Somewhere Over the Rainbow, If I Only Had a Brain and We're off to see the Wizard.