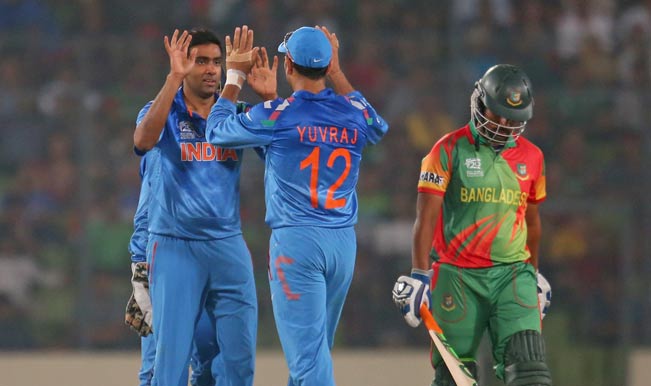 India won third game on trot against Bangladesh in the ICC World T20 2014 to stay unbeaten and became the first team to book a place in semi-final. This is for the first time since inaugural World T20 India will be playing a semi–final. Men in blue have been in unparalleled form with both bat and ball. We take a look at some reasons due to which India qualified for semis:
Spinners: The trinity of Amit Mishra, Ravi Ashwin and Ravindra Jadeja have exploited the conditions effectually in Bangladesh. Spinners have shared 14 wickets between them, that is 66.66 % of the total wickets taken by Indian bowlers. Amit Mishra tops the list of most wickets for India with seven while R Ashwin has been the most economical spinner with economy of 5.16 runs per over. Leg spinner Mishra has a strike rate of 10.2 so far that just sums up why he is the highest wicket taker in Indian ranks.
Batsmen: India have not chased a big target yet but still batsmen have made tricky totals look like mere ones. Rohit Sharma and Virat Kohli both have belted the rival bowlers. Kohli averages gigantic 147.00 and Rohit Sharma is next best with 71.00. Both these batsmen have two half centuries to go with it. 71 % of India's total runs have come from the bats of Rohit Sharma and Virat Kohli.
Captain: Last but not the least MS Dhoni has an enormous impact on Team India, he is a competent leader and has used his resources productively. He is not afraid to go out on a limb and that works for him. He ''leads from behind'' with his gloves on.
Besides the aforementioned factors Seamers have also contributed, Bhuvneshwar Kumar has an exceptional economy of just 5.00 runs per over and has put restrictions on batsmen early on. Mohahamad Shami has been expensive with economy of under 9 runs, but he has one more game against Australia to better it before heading into semi-finals.
India will now be aiming to stamp their authority against Australia and top the points table in group 2.