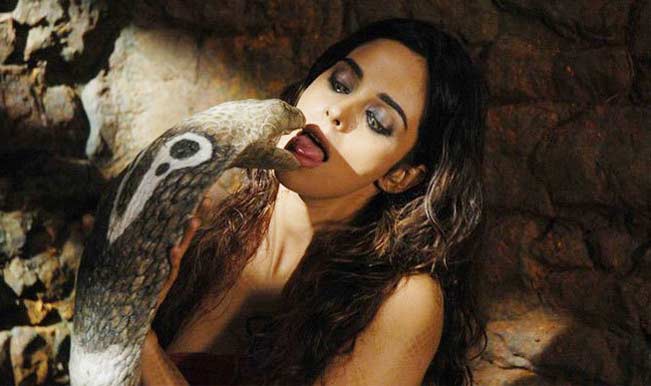 As per the Hindu traditional belief serpents are worshiped on the fifth day of Shravan (Lunar month). The snake is believed to come from the seventh realm of the universe underneath the earth's surface, on this day the snakes are worshipped in the form of serpent deity made of silver, wood or stone which are bathed in milk.
People also celebrate this holy occasion by making a snake deity out of cow dung and placing it at their doorstep, they then bathe the deity in milk which is said to free oneself from their sins. People also follow a fast and feed Brahmins. At some places, real snakes are worshipped and also snakes fairs are conducted. On this holy day digging and ploughing of earth is considered a taboo as it can harm the serpent.
Not only in real life will you come across the importance of the snake deity, even in reel life, our B-town has whole-heartedly accepted the fascination of serpants, which gave us  many leading ladies featuring as serpents! Bollywood stars like Sridevi and Mallika Sherawat are known to feature as nagin in Bollywood movies such as Nagina and Hiss respectively.
Many Hindu scriptures, mythology and folklore highlight the importance of serpent worshiping. As the snake god is worshipped throughout India today we share with you some of the legendary takes of Bollywood, where the snake aka nagin always had a pivotal role. We share with you some of the most interesting songs featuring serpent in form of beautiful Bollywood leading ladies!
Watch the videos below and quirk up your Nag Panchami with devotion where the notion of fear is totally eliminated!
Nagina: Mein Teri Dushman, Dushman Tu Mera
This song featuring Sri Devi is the ultimate classic dance number. Listening to this you will still get goose bumps. The music is by Laxmikant-Pyarelal. This song became a huge hit and is touted as Bollywood's best nagin dance, check out for yourself!
Nigahen- Main Nagin Tu Sapera
This was the first ever sequel made in Bollywood. Nigahen: Nagina Part 2, is the sequel of Nagina again featuring Sridevi. This songs is as classy as the previous song.
Nagin: Man Dole Mera Tan Dole
This is a super hit old classic song sung by Lata Mangeshkar featuring Vaijanti Mala and a pair of serpents! Though the song is a black and white era video, till date it has been remixed and has many covers done by various artists.
Hiss: Lag Ja Gale
Watch sultry star Mallika Sherawat as nagin from Hiss. The movie was about Mallika Sherawat who plays the nagin takes human form to track down and seek revenge from her mate's oppressor.
Bajatey Raho: Nagin
This song has nothing to do with Naag Panchami, but the fact that the lyrics go 'Main nagin dance nachna'. Check out the groovy dance number featuring Maryam Zakaria and Scarlett Wilson.