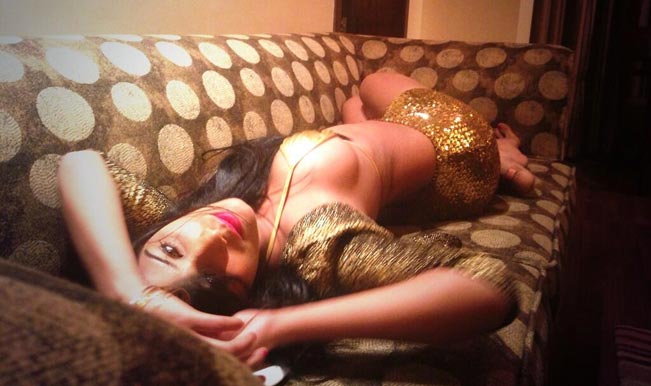 Actor Poonam Pandey was born on March 11, 1991. So, it's attention queen's birthday today, and we hope she's gets just that. Attention is all this hottie wants, so we decided to gift her that. Here are 5 reasons you should follow Poonam Pandey on Twitter, and give her some bhaav!
1) Entertainment, entertainment and entertainment
Tweethearts I Learnt a New word BOCHA … It Means Kid… So when I was a BOCHA I was a Shy Gurl

— Poonam Pandey (@iPoonampandey) March 5, 2014
When you are feeling low about yourself or you think you have the world's worst job, go stalk Poonam Pandey! After reading her tweets, you will feel like Einstein and things will get better for you.
2) Free porn
Scanned…. Brains of My Followers … Hehhehheheh Lolz Sowieee pic.twitter.com/OG5yuyWWSn

— Poonam Pandey (@iPoonampandey) March 7, 2014
If your Internet connection is very slow and you cannot access a porn site, you can always visit Poonam's profile on Twitter. If not entirely a substitute for porn, her pictures will serve you for the time being at least! So when in need, you know what to do.

3) Morning dose
gOOd Morning! a Pic for Turning you on #TittyTuesday … RT this if you want more Xoxo muuuuaaaahhhh pic.twitter.com/cDeAYdW5Go — Poonam Pandey (@iPoonampandey) February 25, 2014
Her morning wishes might make every guy's day. You can expect the craziest and nastiest thing from her. She will go all out to please you. We must say she is a people's person!
4) She re-tweets
The difference between Arvind Kejriwal and @iPoonampandey is that Poonam Pandey actually knows what young India wants #ItemGirlKejriwal !!!

— Gaurav Kumar #HDL (@gk_kumar98) March 7, 2014
If you tweet something crazy using her official @iPoonampandey Twitter handle, she will re-tweet you. So, when you want to gain some followers, you know the drill!
5) Legally blonde
Sexy Feeling afta waxing my legs!!! .. By myself.. ☺♥☺♥ pic.twitter.com/NS3I137FSA

— Poonam Pandey (@iPoonampandey) March 6, 2014
This is the best reason to follow her. You can't help but wonder how a person can be so blonde (so to speak)! You will keep wondering this every time you see her tweets, and you will have a laugh riot.
If this doesn't convince you to follow her, nothing will! Hit the follow button already! Let's give this unapologetically blonde yet hot lady some serious attention. Happy birthday, Poonam Pandey. (Please, do not be in your birthday suit today.)