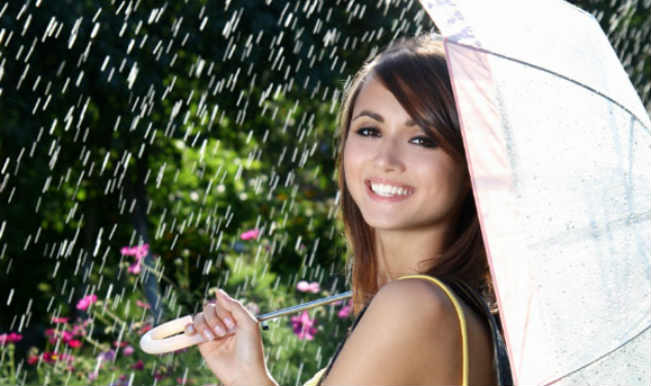 The monsoons have finally arrived and it's time to bid adieu to  summer heat and welcome chilly showers. But it's also that time of the year when make-up becomes the most difficult thing to do. From smudging and spreading mascaras to oily face, everything becomes a mess in monsoon. However there are always ways to look good, so here is your guide. Five simple tips to make you look yourself beautiful this monsoon:
1. Goodbye Foundations, Hello Powder
Foundations are a big no this season. They leave irregular patches all our your face and make your make up evident. One of the best substitute for foundations would be the good old powder that not only fills in the pores but also makes you skin appear normal. However take good care to minimize the use to keep it nice and simple.
2. Mascara Massacre
While those long and separated lashes make many heads turn and the volume it adds accentuates your eyes, monsoon and mascara do not go hand in hand. An easy way to replace them would be by drawing over your upper lash line with your water proof kohl pencil.
3. Matt is the new shimmer
While you enjoyed all those shiny glittery blushes and eye shadows throughout the summer, monsoon opens your eyes to the lovey matt collections. From the dusty pink to hues of brown, everything looks adorable in the monsoon and it's also easier to handle. Again it is important to keep it simple and minimal in monsoon.
4. Eyebrow
While threading and tweezing those eyebrows are a must every season, it is time to lock away those eyebrow pencils. If they are a must for you, you can try some eyebrow gels that are much easier and manageable.
5. Luscious lips
When it comes to the wide range on lip colours to choose from, go for the Matte collection here as well. It is best to choose one of the long lasting range of lipsticks for monsoon. Lip gloss are a big no as the get sticky and smudge in rain, and its best to use some darker shades as they stay longer and make your skin look lighter.