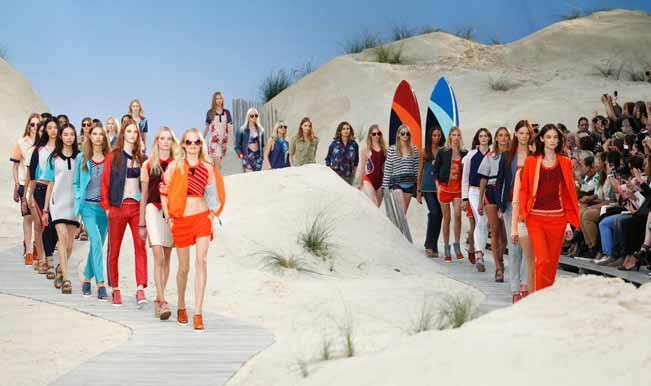 The New York Fashion Week has just got over and we see various trends that will be defining Spring 14' and obviously crop tops have made their position this season. There are so many ways of wearing a crop top and if worn properly one can not only look sexy but also be runway ready. Here is a list of various looks you could try.
Midi Skirt Look:  Midi skirt along with a crop top make such a cute combo! The midi skirt will prevent you from feeling over exposed. The Designers, this season love the look of matching crop top and midi skirt, but you can even mix match patterns and colors to make a very unique and fantastic look. You can pair a hot solid white top with a floral printed midi skirt or a black and white striped top with a bright red skirt.  You can explore your creativity in the option. We suggest you pair this combo with boots or gladiators.
The Hot and Sexy Denim Look: Want to play it casual but sexy. This is the look for you. Wear your favourite logo crop top and pair it up with any pair of denims you own. Put on your simple pumps or ballerinas and bang! You are good to go.
High Waisted Shorts: Going to a beach? Or want to flaunt off your body? This is the look for you. Pair up classy high waisted shorts with a crop top for a very summery or beachy feel. Mix and match patterns! Couple it up with sport shoes, flats, wedges or ballerinas.  If you want to create a party look using this, then this season we suggest go for sequined crop top with sequined sandals or pumps.
Country Girl Look: Want to go rustic with a twist? Try this style out. Wear any crop top with a denim dungaree or dungaree shorts. Play with colors. Create a heavy contrast to completely stand out. Braid your hair and put on some sneakers to create a flowery child look. If you are considering dressing up a little, then couple up a dark color jumpsuit with a bright crop top.
High Waist Pants: High waist pants look sexy with a crop tops. They create a sophisticated and sleek look. Depending on how you pair it up, they're perfect for a shopping trip, or just hanging out with friends.
The Pencil Skirt Look: Pencil skirts are so pretty as they always seem to hug you at the right places and show off your assets. You can pair a colorful printed skirt with a neutral color crop top. This look has a feel of sexy, formal and yet fashionable. To avoid looking overexposed and  "printy" we would suggest a full sleeved solid coloured top. Pair this up with your stilettos for a more enhanced and formal look.