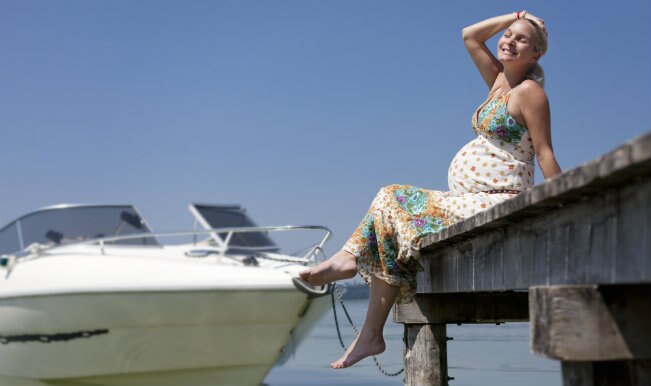 Are you a new mom? Finding it difficult to fit into your pre pregnancy clothes whilst also wishing to look fashionable? Then here are some tips for you to hide that maternal curve and feel more confident about yourself:
A Nursing Bra: This is special type of brassiere that provides comfortable breastfeeding options without the need to remove your bra. Also an adjustable cup size is present to handle the maternal mammary glands' fluctuation which are said to settle down after 10-12 weeks of nursing. (Read: 4 tips to be hot and fashionable during pregnancy)
Belly Band: Are u feeling grumpy about the tummy that is protruding out when you wear your clothes? Then moms, it's time to tuck your tummy in using the conventional belly band. Abdominal wrapping has been long used to help post pregnancy swellings and encourage muscles and tissues to bounce back.  A good belly band can adjust upto 5 inches      to accommodate a changing post baby shape. It should not be too tight initially or else it will not be comfortable. Some women may have to wear two belly bands to keep a good fit.
Post Partum Girdles: These are similar to bell bands but have panties fitted to them to upport the weight around the hips and buttocks too.
Nursing Ponchos and Covers: Very common in the UK, these covers provide complete privacy to the mother and baby even in public.
Shift to Flowy Dresses: Try choosing clothes that will adorn your post partum body. Try choosing summer dresses/ gowns that are long and flowy. They will give you a very delicate look and be highly forgiving to your curves.
Accessorize Appropriately: Wear accessories that are conducive to raising a new born. Avoid wearing long chains and earrings that can be pulled or get tangled. High heels are a complete no no as they provide a very big hazard when carrying a baby or a heavy baby bag.
Dressing up after a baby maybe difficult as schedules are tight and and exhaustion is high but one must be prepared to accept her post partum body and keep an open mind in trying different types of clothes that may not necessarily be the same as it was before pregnancy.