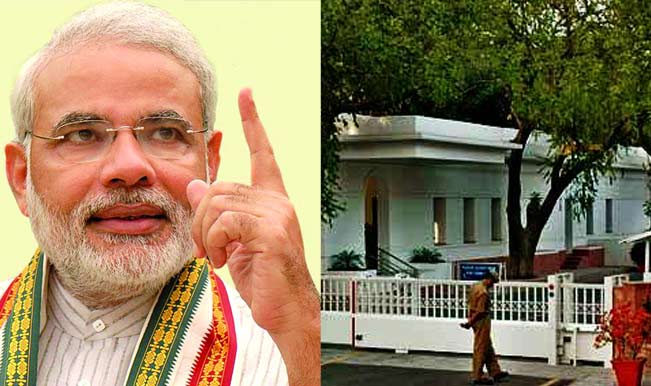 7 Race Course Road or 7 RCR is the residence of the Prime Minister of India, where the 15th Prime Minister of India, Narendra Modi, shifted in his new residence today. Just like his predecessor Dr Manmohan Singh, Narendra Modi also believes in simple living and has not asked for any dramatic changes at his new residence. But unlike the previous Prime Ministers who lived in bungalow number 7, Narendra Modi will be occupying the fifth bungalow or No. 5 RCR as his residence. And hence technically the address of the 15th Prime Minister of India is 5 RCR and not 7 RCR. We take a look at seven things to know about the Prime Minister's residence.
1. The first Prime Minister to stay at 7 RCR was Rajiv Gandhi in 1984. He came along with his family to stay at the official residence. The official name of the Prime Minister's complex is called Panchavati. It is situated on Race Course Road, New Delhi and was built in 1980s.
2. The bungalows of the Prime Minister's residence at 7 Race Course Road were originally designed by Robert Tor Russell, who was part of British architect Edwin Lutyens' team, when he was designing New Delhi in the 1920s and 1930s.
3. 7 RCR became the Prime Minister's official residence during Prime Minister V P Singh's tenure. He permanently converted the place as the PM's residence. Before him, the Prime Ministers lived at the other bungalows allotted to them as the MPs.
4. 7 RCR consists of five bungalows 1, 3, 5, 7 and 9; including 5, Race Course Road, the Private Residential Zone for the Prime Minister. Bungalow 9 is occupied by Special Protection Group (SPG), while Bungalow 3 has been converted into a guesthouse for PM's guests.
5. The Prime Ministerial residence is spread over 12 acres of land. Unlike 10 Downing Street, it does not have Prime Minister's Office but has a conference room for informal meetings. Narendra Modi has chosen to use the seventh bungalow or bungalow No. 7 as his office. He will be residing in Bungalow No. 5.
6. Narendra Modi is the first Prime Minister to live at the 7 RCR without his family. But it is assumed that his cook for 12 years, Badri will accompany him in his stay at the Prime Minister's residence. Badri has been staying with Modi at bungalow no. 26 in Gandhinagar, the official residence of the Gujarat's chief minister for over a decade.
7. Prime Minister Narendra Modi will be using the interlinking tunnel from 7 RCR to Safardajung Airport to reduce the traffic congestion. The Race Course Metro Station is located on the Yellow Line of the Delhi Metro. It services the Race Course Road area in Central Delhi, and the Prime Minister's official residence, 7, Race Course Road is located nearby.
With Narendra Modi coming in, 7 RCR ke bhi ache din aane wale hain!