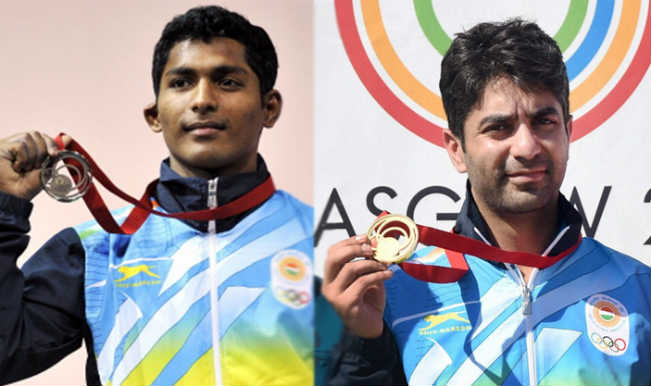 The multi-sport event Commonwealth Games have been closely followed by the Indians and they are never left disappointed by their national heroes. Indian shooter Abhinav Bindra and weightlifters Sanjita Khumukchan and Sukhen Dey started the gold harvest in the opening two days at Glasgow 2014. With their efforts India stands at fifth position in the medal table with 3 gold, 4 silver and 3 bronze.
Shooting and Weightlifting has been India's forte, where they have performed consistently over the years. The Commonwealth Games 2014 also marked the start of young talent in the field of shooting, 16-year-old Malaika Goel who won her first silver CWG medal in 10m air pistol shooting. Indian judokas started the medal hunt for India. We take at following list of 10 Indian medal winners at the 20th Commonwealth Games so far:
Gold Medal Winners
Sanjita Khumukchan: Women's 48 kg weightlifting
Sanjita Khumkcchan with a total lift of 173 kg won the gold medal in the women's 48kg category of weightlifting competitions at the Clyde Auditorium on Thursday. In snatch, the 20-year-old Sanjita had three good lifts in her three attempts of 72kg, 75kg and 77kg. She survived a scare in her first attempt, 92kg, in the clean and jerk when she failed to lift the weight and the bar almost missed her shin bone. But in her next two attempts she lifted 92kg and 96kg with ease.
Sukhen Dey: Men's 56 kg weightlifting
Sukhen Dey bagged India's second gold with his impressive clean and jerk claimed gold in the 58 kg men's category by lifting a total of 248kg (109 kg in snatch, 139 in clean and jerk).
Abhinav Bindra: Men's 10 metre air rifle shooting
India's only individual Olympic gold medallist bid a perfect a good bye to the Commonwealth Games as he won the 10m Air Rifle final at the Barry Buddon Shooting Centre at Glasgow, Scotland.
Silver Medal Winners
Mirabai Chanu Saikhom: women's 48 kg weightlifting
Another Manipuri girl, Mirabai Chanu Saikhom won silver medal in the women's 48kg category of weightlifting competition. Mirabai had a total lift of 170kg. Mirabai lifted 72kg in her first attempt in the snatch but then failed in her next attempt for 75kg. The 19-year-old, however, succeeded in lifting 75kg in her third attempt which was a good lift. She had two good lifts of 92kg and 95kg in the clean and jerk but failed in her last attempt for 98kg.
Shushila Likmabam: women's 48 kg judo
Shushila first beat Cameroon's Marie Medza Effa in the round of 16 and then got the better of Australian Amy Meyer in the quarterfinal. Shushila got the better of Australian Chloe Rayner in the semi-final of the women's -48kg category but was no match to Scotland's Kimberly Renicks in the final. Nevertheless the Indian Judoka ensured she got silver medal for the nation.
Navjot Chana: men's 60 kg judo
Thirty-year-old Navjot faced a tough challenge from top-ranked Australian judoka Tom Pappas in the opening round before winning on the basis of more yukos at the end of the five-minute bout.  Chana, who is employed with Punjab Police later went on to beat South African Daniel Le Grange in the semi-finals of the men's -60kg category. But the 2010 Commonwealth Championships gold medallist, Navjot Chana lost to Ashley McKenzie of England in the final.
Malaika Goel: women's 10 metre air pistol shooting
16-year-old Malaika Goel shot her way to silver medal glory at Commonwealth Games 2014. Definitely the young revelation for India on the Glasgow tour, Goel won silver medal in 10m air pistol shooting.
Bronze Medal Winners
Ganesh Mali: men's 56 kg weightlifting
In the 58 kg men's category where Sukhen Dey bagged gold, his fellow countryman Ganesh Mali won the bronze medal for the nation with a total weight of 244.
Kalpana Thoudam: women's 52 kg judo
Kalpana Thoudam won the bronze in the women's -52kg category as she beat Christianne Legentil of Mauritius. Christianne picked up three penalties while Thoudam had two. She won on the basis of conceding lesser penalty points against Christianne Legentil.
Santoshi Matsa: women's 53 kg weightlifting
Indian weightlifter Santoshi Matsa won the bronze medal in the women's 53kg while her compatriot Swati Singh finished fourth at the 2014 Commonwealth Games at the Clyde Auditorium here Friday. Santoshi lifted a total of 188 kg — 83 kg in snatch and 105 in clean and jerk. The 26-year-old Swati picked up a total of 183 kg. She did well in the snatch lifting 83 kg but faltered in the clean and jerk where she managed just 100 kg.
There is more action to watch out from the Indian side on Day 3 of Commonwealth Games 2014.