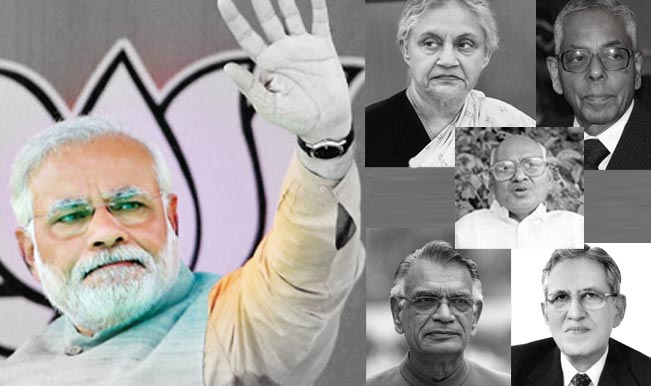 Five Governors are slated to resign from their posts before their tenure ends. While the UP Governor B L Joshi has already offered his resignation, the state of Governors of Kerala, Madhya Pradesh, Punjab and West Bengal hangs in balance. The Narendra Modi-led government is mulling over the options of replacing the UPA-appointed Governors prematurely. We bring you a list of the 5 Governors who are likely to be scrapped in coming days:
1. Banwari Lal Joshi
The incumbent Governor of Uttar Pradesh B L Joshi offered his resignation on Tuesday afternoon after talks of his removal escalated. Joshi was appointed as the Governor of Uttar Pradesh on 28th July 2009.  Joshi has held several important positions in his long career.  Joshi is a former governor of Uttarakhand (2007-2009), Meghalaya (2007), and Delhi (2004-2007). In his early days in office, has also worked in the Home Ministry of Prime Ministers– Lal Bahadur Shastri & Indira Gandhi.
2. Ram Naresh Yadav
The current Governor of Madhya Pradesh is another name on the list that is likely to be axed. Ram Naresh Yadav was sworn-in as the Governor of Madhya Pradesh on 8th September 2011.  Ram Yadav is also a former chief minister of Uttar Pradesh from 1977 to 1979. Ram Yadav was associated with the Janata party earlier but joined the Congress party later.
3. Sheila Dixit
Just like her appointment, the brief stint of the newly appointed Kerala Governor Sheila Dixit is likely to end on a controversial note too. Sheila Dixit was anointed the as the Governor on 11th March 2014 by the President Pranab Mukherjee, a move seen to shield her from the CWC probe. Dixit had a staggering career as the chief minister of Delhi for a record three consecutive terms. She paid the price when Arvind Kejriwal' Aam Aadmi Party and BJP dethroned the Congress government in the Delhi Assembly Elections.
4. Mayankote Kelath Narayanan
The present Governor of West Bengal MK Narayanan is likely on Modi government's list of Governor's to be replaced before their term ends. Narayanan was designated on 24th January, 2010 as the 24th Governor of West Bengal. Narayanan has had a robust career, heading the Intelligence Bureau (IB) from 1987 to 1990. Narayanan is also a former National Security Advisor (2005-2010).
5. Shivraj Vishwanath Patil
The current Governor of Punjab and Administrator of Chandigarh Shivraj Patil is likely to be replaced by the Modi government before his term ends officially. Patil is a former Home Minister in Manmohan Singh's regime. Patil has also served as the Defence Minister in 1980s in Prime Ministers Indira Gandhi and Rajiv Gandhi's cabinet. Patil was appointed as the Governor on 22nd January 2010.