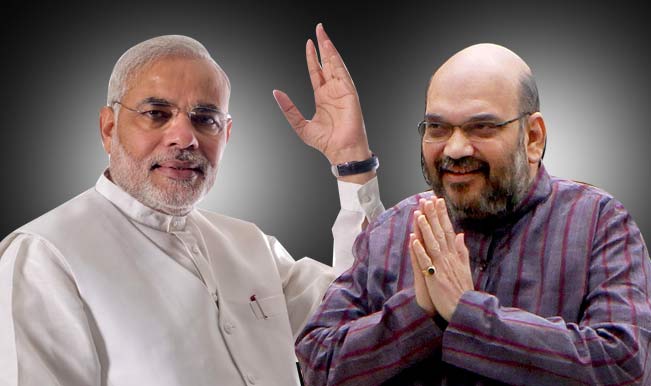 Amit Shah who has emerged as one of the prominent faces in the Lok Sabha Elections 2014 will be a key figure in the Modi Wave that took place in Uttar Pradesh. If Bharatiya Janata Party comes into power which is seen as the thing occurring, Amit Shah could see himself land up as the top post of Vice-President of BCCI. If Narendra Modi gets the accolades in Varanasi and Bharatiya Janata Party in Uttar Pradesh in general, Amit Shah has been the man responsible.
Amit Shah has been quite a controversial figure owing his aggressive campaigning and speeches during rallies but there is another side of this BJP man. We take a look at some of the things to know about this prominent leader from the saffron party.
1. . Amit Shah born as Amitbhai Anilchandra "Amit" Shah was born in 1964 in Bombay. He holds a Bachelor's degree in biochemistry before he became Rashtriya Swayamsevak Sangh Swayamsevak (RSS volunteer) and a leader of the BJP's youth wing, the Akhil Bharatiya Vidyarthi Parishad (ABVP).
2. Amit Shah worked as stockbroker before coming in terms with veteran BJP leader Lal Krishna Advani. He managed several of Advani's election campaigns.
3. Amit Shah gets the management skills from his grandfather who was an administrator with the old Mansa princely State and had played host to Shri Aurobino Ghosh nearly 100 years ago.
4.  Amit Shah has been a master strategist with the way he handled the delicate situation in Uttar Pradesh where he very aggressively campaigned for the Bharatiya Janata Party. Though the speech carrying the remarks about Muzzafarnagar Riots got him into troubles with the Election Commission, but he remained effective as the spokesperson for BJP.
5. Amit Shah has a very private life with wife Sonal Shah and a son Jay Shah who is an official in Gujarat Cricket Association (GCA) who may join as the joint secretary of Gujarat.
6. Amit Shah has been regarded as a shrewd tactician, and has also been termed a "modern-day Chanakya and master strategist".
7. Amit Shah came up with a brilliant master plan of setting a "social media war room" in Lucknow. This media war room comprised of several individuals who monitored the news around the political corridors across nation. apart from keeping a track of the news, they looked into the matters of the common people, their problems, and resources needed to win.
Get Live Updates of Lok Sabha Election Results 2014