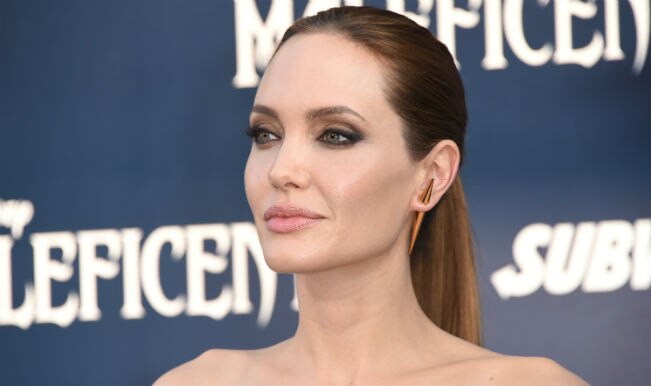 Most men – and women – desire Angelina Jolie. This actress is not only breathtakingly good at starring in movies, but she also does a lot for the less privileged too. She has adopted some beautiful children from across the world, and has some more with her equally beautiful partner, Brad Pitt. But when they make an appearance together, all eyes are on the ravishing Miss Jolie. She is also known for her humanitarian work with refugees, and is praised for her charitable services. As we wish her a happy birthday today, we take a look at her top 5 most brilliant acting performances. Enjoy.
5.  Evelyn Salt in 'Salt'
Angie gave Bond a run for his money, literally. This role made her the definition of cool, as she played a kickass spy who does not hesitate to… kick ass. The film became popular largely because of her effective acting, and she made the concept of a spy, a new improved one.
4. Lisa Rowe in 'Girl, Interrupted'
No, Angie did not play the lead role in this movie – Winona Ryder did. Angie just played a patient in a mental hospital, who was diagnosed as a sociopath with anger issues. Here, she showed the audience that she could act. She channeled the role to perfection, and made her presence felt just as much as her absence. Many people who watched the film thought that she should have had more screen time, considering how her performance resonated. She even earned an Academy award for this role!
3.  Mariane Pearl in 'A Mighty Heart'
Angelina makes us all feel what her character feels in this movie. Based on a true life story, she plays the wife of a reporter named Daniel Pearl, who is taken hostage by militants and then murdered. As if that was not enough, the whole account was recorded by them and put up, and she watched it while being pregnant. Some of the details were extremely graphic, but Angie did full justice to the role, and to the pain of losing someone you love in such a horrific manner.
2.  Gia Carangi in 'Gia'
Very few actors, very few indeed, can boast of really living their character to such an extent that it becomes them. And Angie has done exactly that in this movie, where she plays a supermodel. The film is based on the true story of a supermodel with the same name, and the actress does a remarkable job. She vividly enacts all the twists and turns of Gia's life and her brief career that had an abrupt ending.
1.  Christine Collins in 'Changeling'
Angelina Jolie had a beautiful career moment playing the mother of a missing little boy here. This movie was directed by the great Clint Eastwood, and had her in a true story where the police department tries to pass off another boy as her son. She protests against this in the most low-key, yet striking way. Her Academy award nomination for this role is justified.  She really put forth a mother's plight; and more importantly to what length a mother would go to, just to trace her son and fight the injustice in the police and law system. Her performance in this movie is truly worth the number one spot.