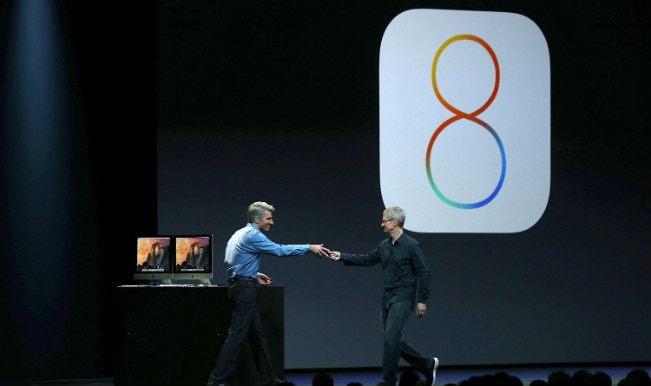 The most awaited Apple's WWDC conference came out with brand new iOS 8. WWDC is one the most awaited events when it comes to the tech world, and this time it gave us, biggest new offering,  the new mobile operating system. Though, in terms of design its looks pretty much like iOS 7, but the starker visual elements have been slightly toned down. Here's all you need to know about iOS 8
1) Health Kit
Apple has given major importance to health and family in iOS 8. It is a comprehensive health-tracking app that can pull in data from third-party apps  and accessories. It can be accessed by healthcare professionals as well. This app is definitely the biggest health bet any technology company has made. So, Health kit is something new in iOS 8!
2) Family Sharing
If you belong to one of those 'iPhone Family' then you will love this update. Family Sharing allows you to share content such as music, movies, books and apps with your family members. The Family Sharing part of iOS 8 involves greater parental control, stronger privacy, and more fun for big groups. Even, the iTunes purchases can now be shared with your family, along with calendars, group messages, and more. If you are a parent worried about your kid overspending through in-app purchases, Apple has your back! The app will inform the parents if the kid is purchasing something and unfortunately for the kid, the parents can easily block the purchase.
3) Widgets
According to iOS 8, widgets are cool! Apple finally has its widgets. Users will be able to add widgets in the Notification Center to show information at a glance. Widgets are part of Apple's new Extensions for apps, which allows iOS apps to interact with one another and share data. So, all you Iphone users don't have to be jealous of the Android users anymore!
4) iMessage
Messages is been the most used app on iOS and hence the makers have decided to concentrate on it. Users can now name message threads and exit or enter a thread as they wish. Audio and video messages can also be added, and they have a Snapchat-like self-destruct function.
5) Continuity
The continuity feature of Apple, is definite 0ne of the most significant feature. Now, they have improved the usage of this feature. The updated version lets you work on multiple devices provided they are signed into the same iCloud account and are in the same network. You can use Handoff with apps such as Mail, Safari, Pages, Numbers, Keynote, Maps, Messages, Reminders, Calendar, and Contacts.Continuity also lets you answer iPhone calls on your Mac, or even continue iPad messages on Mac.
 6) Keyboard update
Iphone's keyboard can now predict the word you are about to type. What makes this update cool is that the prediction will differ from person to person. It will reflect in what context the conversation is taking place.
7) Siri
Siri is now handsfree! Rememeber, how you have to hold the home button and talk to Siri. Gone are those days! Because now, Siri can be accessed by just saying 'Hey Siri'. It's similar to what Google has with Google Now.