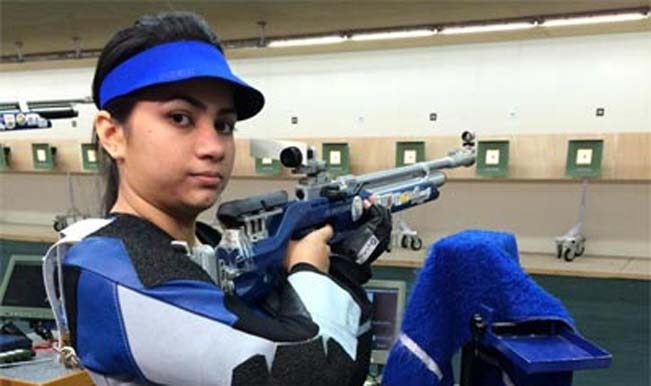 It is another proud moment for India at Commonwealth Games 2014, 21-year-old shooter Apurvi Chandela claimed a Gold medal in the 10 metre Air Rifle event after setting a final games record with a score of 206.7. Apurvi, who qualified fourth to the finals held onto her nerves to zip past her compatriot, Ayonika Paul who had to settle with a Silver medal.
It is after eight years that India has managed to win a Gold medal in the 10m Air Rifle event courtesy Apurvi Chandela's efforts. So, as the young lady made the country proud, we have decided to give you some insights about the budding rifle shooter.
1)     Apurvi Chandela, who hails from Rajasthan was born in the Pink city, Jaipur, on January 4, 1993.
2)     Apurvi was earlier this year was enrolled as final year student of Sociology Honours at Delhi University's Jesus and Mary College.
3)     She was just 19-year-old when she won the Gold medal in the Senior National Championship in 2012. It was for the first time that she was competing in the senior circuit. She defeated Pooja Ghatkar of Maharashtra by 0.2 points to claim the Gold.
4)     In March 2014, the shooter bagged four medals at the 37th Inter-Shoot Championship in the Netherlands. She won a Gold and a Bronze medal in individual events and two more medals as part of a team.
5)     According to Olympic Gold Quest (OGQ), an initiative by Geet Seethi and Prakash Padukone to identify and support Indian athletes, Apurvi has finished in the top 15 in 2 out of 3 World Cups she has participated in 2014.
Apurvi Chandela, at such a young age has done wonders and has miles to go. We congratulate her and wish her all the best for her future endeavors.
Get Commonwealth Games 2014 Complete Schedule of Indian Players Here 
Get The Updated Commonwealth Games 2014 Medals Tally Here