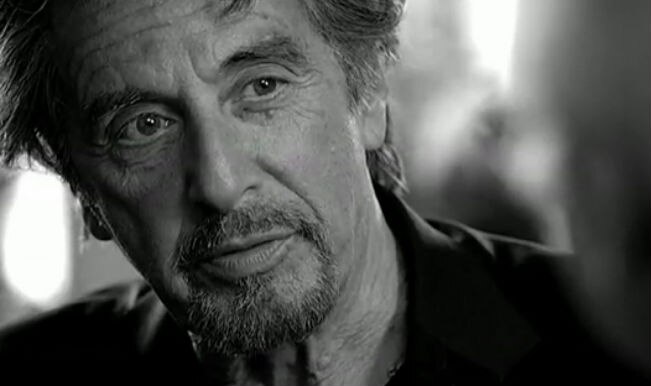 Al Pacino can easily be touted as one of the greatest actors in the history of cinema. On his 74th birthday, we select a few quotes, from his on screen characters, as well as when he is off the camera.
Top five of Al Pacino's character quotes:
5. "…you're gonna win or you're gonna lose. The point is, can you win or lose like a man?
This quote is from the 1999 movie, 'Any Given Sunday' where he plays the well respected and successful head-coach of the Miami Sharks team, Tony D'Amato. The coach is accused of under-performing and subsequently asked to leave his position by the owner of the team.
4. "All I am is what I'm going after."
The quote, from the 1995 film, 'Heat', has Pacino playing a lieutenant in the LAPD, named Vincent Hanna. He is all set to lead an investigation on an armoured car heist.
3. "You're out of order! You're out of order! The whole trial is out of order!"
This quote is from the 1979 film, 'And Justice for All', where Pacino plays a defence lawyer from Baltimore named Arthur Kirkland, who always practices ethically. He is appalled when he is asked to defend a judge accused of rape, whom he looks down upon.
2. "Come say hello to my little friend."
The quote is extremely well known, from the movie 'Scarface' which released in 1983. Pacino stars as Tony Montana, a Cuban refugee who eventually becomes a drug lord. But this risky way of life leads to rash decisions, remorse and lastly, death.
1. "Keep your friends close, but your enemies closer."
The most famous quote, by far, that can be attributed to a character Pacino played – as Michael Corleone in the 1974 classic, 'The Godfather Part II'. Corleone is the new 'Don' of his crime family, and he seeks to protect their business ventures, until there is an attempt to assassinate him. 
Top five quotes by Al Pacino, off-screen:
5. "The hardest thing about being famous is that people are always nice to you. You're in a conversation and everybody's agreeing with what you're saying – even if you say something totally crazy. You need people who can tell you what you don't want to hear."
4. "The problem with me is, I guess, the way I express myself, you have to be with me 50 years before you can get a sense of what I'm talking about."
3. "My weaknesses… I wish I could come up with something. I'd probably have the same pause if you asked me what my strengths are. Maybe they're the same thing."
2. "It's easy to fool the eye but it's hard to fool the heart."
1. "Vanity is my favourite sin."
Don't we agree?