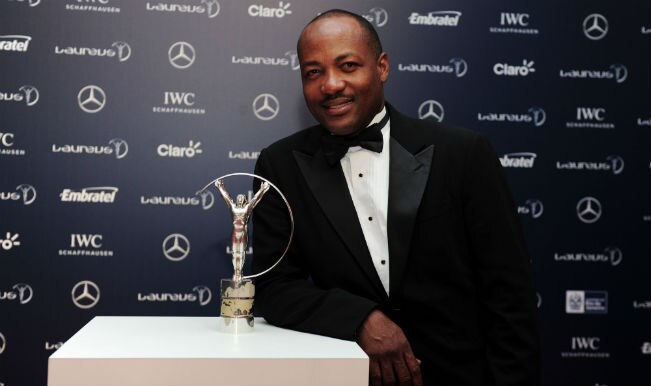 Brian Lara, one of the greatest cricketers ever to play the game of Cricket turned 45 on Friday. The charismatic southpaw born on 2nd May, 1969 represented West Indies in 131 Tests and 299 ODIs. The only player to score a score of 400 in the test cricket, Brian Charles Lara has been one of the most celebrated cricketers in the sporting world. Truly representing the spirit of the game, we take a look at some of the interesting things about 'The Port of Spain':
1. Brian Charles Lara was born in Santa Cruz, Trinidad. He was the 10th of the 11 children. Brian Lara had played table tennis and soccer for Trinidad and Tobago junior side, but later turned into cricket as he wanted to follow the footsteps of his idols Gordon Greenidge, Viv Richards and Roy Fredericks.
2. Brian Lara has a unique record of scoring a hundred, a double hundred, a triple hundred, a quadruple hundred and a quintuple hundred in first class games. Brian scored a knock of 501 not out off in 427 balls for Warwickshire against Durham at Edgbaston in July 1994, the highest individual score in first class history.
3. Brian Lara holds the record of scoring highest individual score of 400 not out against England at St John's, Antigua in 2004. With this knock he became the second player to score a 400 run score twice. He eclipsed Matthew Hayden's score of 380 against Zimbabwe.
4. Brian Lara also has record of scoring the maximum number of runs in an over in the Test cricket. He demolished the South African bowler Robin Pietersen to score 28 runs in an over. The scoreboard for that over read 4, 6,6,4,4 and 4 runs.
[Also Read: Sachin Tendulkar turns 41: 19 interesting things to know about the Master Blaster]
5. Brian Lara come second after Sir Don Bradman with his 9 double centuries compared to the Australian legend who remains on top with 12 double centuries.
6. Brian Lara is also a skilled golf player, winning several titles. He often participates in the golfing tournaments throughout West Indies.
7. Very hard to believe but the West Indian legend who scored 20 per cent of his the side's runs also has 4 wickets against his name. He is right-arm leg break bowler and his best bowling figures are 2/5 in ODI cricket.
Wishing the great cricketer, a very happy birthday.