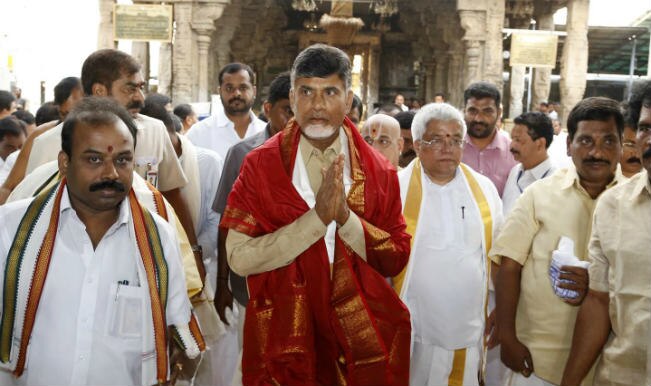 The bifurcation of Andhra Pradesh is officially done. The 29th state Telangana is finally formed. While K. Chandrasekhar Rao took as oath the Chief Minister of Telangana last week, Chandrababu Naidu will be the first Chief Minister of the bifurcated state (Seemandhra). Chandrababu Naidu, who is the President of Telugu Desam Party (TDP), will be a third time Chief Minister when he took oath of office on the outskirts of Guntur on Sunday in Andhra Pradesh. We look at the list of facts associated with Chandrababu Naidu's life in this short list:
1. Nara Chandrababu Naidu was born on 20th April 1950 at Naravari Palle in Chittoor district, Andhra Pradesh. Naidu has a Masters in Arts (Economics) degree. Not many know that Naidu did began his PhD but couldn't complete because his inclination towards politics.
2. Chandrababu Naidu began his political career at an early age by joining Youth Congress as a student leader in Chandragiri, near Tirupati.
3. Chandrababu Naidu has served as the longest chief minister in Andhra Pradesh from 1995 to 2004. Naidu was Andhra Pradesh's youngest assembly member and youngest minister at the age of 28.
4. Chandrababu Naidu is known for his tremendous work for implementing the use of modern Information Technology (IT) in Andhra Pradesh. Naidu is credited with making Hyderabad one of the credential IT hubs in India.
5. Politics is all about a roller coaster ride. When Chandrababu Naidu suffered defeat in the 2004 and 2009 elections, he became the longest serving Leader of Opposition in the Andhra Pradesh assembly since 2004.
6. Chandrababu Naidu is hailed as India's only politician with a 21st century vision and is termed as the only Chief Minister whose objectives and policies are quite developmental and result oriented by global leaders.
7. Chandrababu Naidu has won a number of awards, which include 'IT Indian of the Millennium' from India Today; Business Person of the Year by The Economic Times, South Asian of the Year from Time Asia and membership in the World Economic Forum's Dream Cabinet.
8. Not many people know that Chandrababu Naidu was described as one of the "hidden seven", working wonders around the world, by Profit (Oracle Corporation's monthly magazine).
9. In the current Assembly elections of Andhra Pradesh, people of Seemandhra gave the TDP-BJP alliance a clear majority of 106 of the 175 assembly seats under the leadership of Chandrababu Naidu.