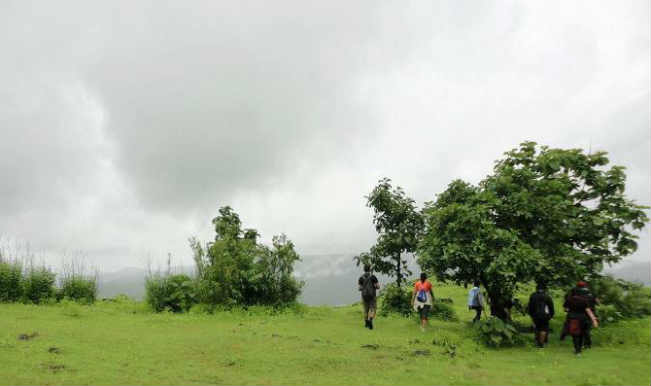 While we all miss the summer beaches and the water sports, monsoon opens a different adventure for your leisure time. It is time to put on your trekking shoes and enjoy the monsoons from the best place possible, closest to nature. Those stormy plights of showers are best enjoyed on a long day trekking up a tricky peak and enjoying the view from the top. Here are five beautiful places near Mumbai to trek to this weekend
1. Lohagad
Right beside Mumbaikar's very own Lonavla, this spot is a trekking favorite in this season. The most exhilarating experience with clouds touching you and making you we, this location is a simple and enjoyable one. The beautiful Bhaja caves and Pawda pond also adds to the already exuberant view and is a perfect picnic spot.
2. Rajmachi
This is one of the famous trekking spots that many have heard of. Connected to Karjat's Kondivade village as well as Lonavla, this trek will give you a warm feeling with lush of green and wonderful waterfalls/ the peak also has two forts, the Shri Vardhan and Manoranjan fort which takes you back to history.
3. NaneGhat
A mountain pass in the Western Ghats range near Junnar in Pune, NaneGhat is one of those treks that is easy and relaxing with some of the best views. An ancient trade route used in the 200 BCE, the of historic toll gates are still evidently seen. This place is near the Shivneri Fort, known for its historic military fortification.
4. Karnala Fort
This perfect one day get away is very close to Panvel city, the end of Navi Mumbai. This hill for in Raigad district is an easy trek which is famous for its bird sanctuary as well as the Karnala fort which has a breath taking view.
5. Vikatgad Fort
Located near Matheran and at a distance of 3-4 kms from Neral, this trek is recommended with someone who has prior experience. The road alone to the fort takes about 2 to 4 hours and has a lot of twists and turns. This location gives you a central scenic place to view Malanggad in Kalyan, Chanderi Fort at Neral and the Prabalgad at Panvel.