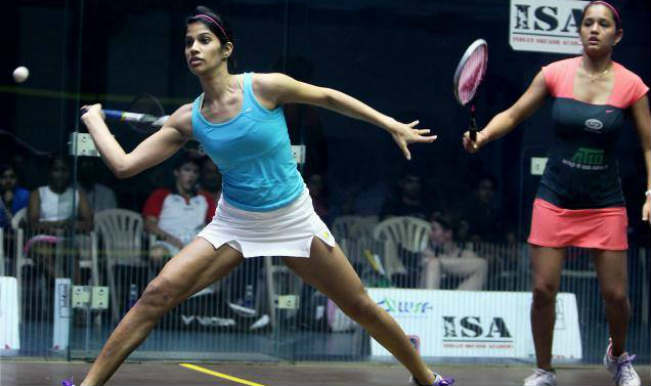 Dipika Pallikal and Joshna Chinappa have made not only their country proud but also gave a great significant to their sport – squash, with their magnificent win in the women's doubles gold medal match at the Commonwealth Games 2014. Never before India has won a medal forget gold in the squash and has been dominated by the Western Counterparts. But these beautiful looking players from India not only tamed their opponents from England, the top seeds Jenny Duncalf and Laura Massaro from England but did it in style.
The fifth seeds at the 20th Commonwealth Games, Dipika Pallikal and Joshna Chinappa had a great run here at Glasgow. It is the sheer hard-work and dedication from the Indian duo to finish on top of the podium after they came 5th in the Delhi 2010 Commonwealth Games. We take a look at the five things about both Dipika Pallikal and Joshna Chinappa, who are seen as the poster girl of squash and are seasoned campaigners of the game:
Deepika Pallikal
1. Dipika Pallikal is born on 21st September, 1991 in Chennai. She is studying in Ethiraj College in English department. Deepika Pallikal is coached by six-time world champion Sarah Fitz-Gerald of Australia. She turned pro in 2006.
2. Dipika became the first Indian to break into the top 10 of the Women's Squash World or WSA rankings. She was also the first Indian women to break into the top 20 in the WSA rankings. She is a 6 time WSA tournament winner.
2. Dipika Pallikal became the first female squash player to be awarded the Arjuna awards.
3. Dipika Pallikal has been engaged to Indian cricketer Dinesh Kathik on 15 November 2013.
5. She achieved the best performance for any Indian Squash player when she reached the semifinals of the Australian open in 2012. Dipika has won the German Open, Dutch Open, French Open, Australian Open, Scottish Open on the European Junior Squash Circuit.
 Joshna Chinappa
1.  Joshna Chinappa  was born on 15 September, 1986 in Chennai. She is the first Indian to win the British squash championship in 2003 U19 category. Joshna Chinappa turned pro in 2003
2.  Joshna Chinappa is the youngest women's national squash champion. She is coached by Malcolm Willstrop.
3.  Joshna Chinappa is the first beneficiary of the Mittal Champions Trust. Mittal Champions Trust (2005 to 2014) was a trust which supported Indian athletes with world-beating potential. It was funded by Lakshmi Mittal and founded by Mahesh Bhupati.
4. Currently she is the 19th ranked player in the world. She has 7 titles and 14 tour finals to her name.
5. Overall she has won 8 different squash championships and was even nominated for the Arjuna award.
Like any other ambassadors of the game, both Dipika Pallikal and Joshna Chinappa have always put the country name high-flying and with the latest addiction they are sure to be looked upon as the role models of many youngsters.
Get Commonwealth Games 2014 Complete Schedule of Indian Players Here