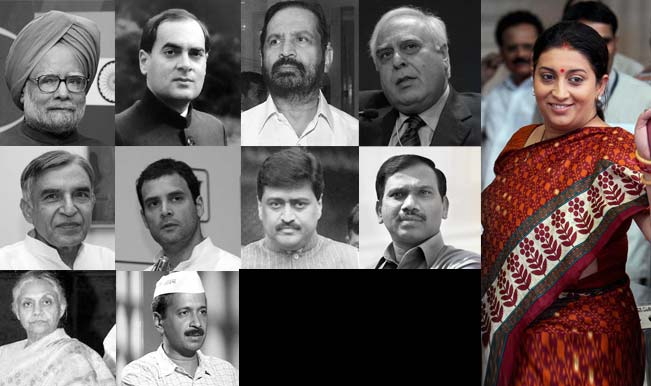 The controversy over the appointment of Smriti Irani as the current Human Resource Development minister is refusing to die. Congress leader Ajay Maken was the first to target Irani when he questioned how can a person who is not even a graduate can head the HRD ministry. This was just the beginning of the ugly war between the two parties and with neither With both, Congress and the BJP party escalating attack and counter-attack, the uncalled controversy rages on.
We look at the list of the ministers who have had good education qualifications as ministers and their astounding results in Indian history.
1. Dr. Manmohan Singh
India's 13th Prime Minister, Dr. Manmohan Singh, has one of the strongest of CV's of a politician in India. His educational qualification reads: Doctorate in Economics, Oxford University. Inspite of being highly qualified, Manmohan Singh couldn't help dirtying his hands in the Rs 1.86 lakh crore Coal Scam. Leave aside the scam, the economic state of affairs in the past decades have been shambolic.
2. Pawan Kumar Bansal
Pawan Kumar Bansal's educational qualification reads: Bachelor of Science and Bachelor of Law. Bansal is one of the accused in the 'Railway Bribery Scam' which surfaced last year. Bansal had to resign from the Ministry of Railway after the prime accused was none other than his nephew.
3. A.Raja
Andimuthu Raja's educational qualification reads: Bachelor of Science and Bachelor of Law. He is the prime accused in the second biggest scam in India- 2G spectrum case. The alleged amount in the scam is staggering 1.76 lakh crores. He is currently out on bail and the case is concurrent in Supreme Court of India.
4. Kapil Sibal
Kapil Sibal is a former Minister of Science & Technology, HRD, Communications & IT, Law and Justice. He in his complete sanity came up with the 'zero loss theory' as his stint as telecom minister. Not to forget, Sibal is a lawyer and has Masters of Law degree from Havard Law School, Cambridge University, U.S.A.
5. Lalu Yadav                         
Not many know that the self-proclaimed to-be Prime Minister, Lalu Yadav, is a graduate of Bachelor of Law. He graduated from Patna University. He was found guilty in the Rs 900 crore fodder scam. He was sent to 5-year jail term. Currently he is out on bail.
6. Sheila Dikshit                    
The former Delhi Chief Minister, Sheila Dikshit's, education qualification reads: Master of Arts. She is alleged to be one of the key persons in the Commonwealth Games scam. The CWG scam is estimated to be of Rs 35,000 crore. UPA-II sent her to Kerala as Governor after Dikshit lost the Delhi assembly elections. It is believed that Congress did this with the sole aim of protecting Dikshit.
7. Suresh Kalmadi                 
Suresh Kalmadi graduated from Ferguson College, Pune and has served the Indian Air Force for six years from 1968-1974. Kalmadi is also a co-accused in the CWG scam. He is charged with forgery, misconduct, conspiracy under PCA (prevention of Corruption Act).
8. Rajiv Gandhi                        
Rajiv Gandhi, India's sixth Prime Minister, is a graduate from Imperial College, University Of Cambridge. Rajiv Gandhi's name figured in the Bofors scam which rocked the Congress party in the early 90s. The scam was allegedly to be worth of USD 1.3 billion.
9. Ashok Chavan
The former Maharashtra chief minister, Ashok Chavan has Masters in Business Management. Chavan is the prime accused in the Adarsh scam.
10. Arvind Kejriwal                 
Another former Delhi chief minister, Arvind Kejriwal is an alumnus of IIT- Kharagpur as a mechanical engineer. His infamous stint of 49 days drew ire of both; public and supporters. He lost the Lok Sabha elections from Varanasi but his party won 4 Lok Sabha seats from Punjab.
11. Rahul Gandhi
The Congress vice-president, Rahul Gandhi, has masters in Developmental Studies from Cambridge University. The Prime Minister aspirant is credited for the decimation of the Congress party in the recently concluded Lok Sabha polls.
If only the educational qualifications of ministers had anything to do with the works they have done, then India would surely have been a different place. Sadly, the above extraordinary politicians have failed to deliver vis-a-vis their educational qualifications.