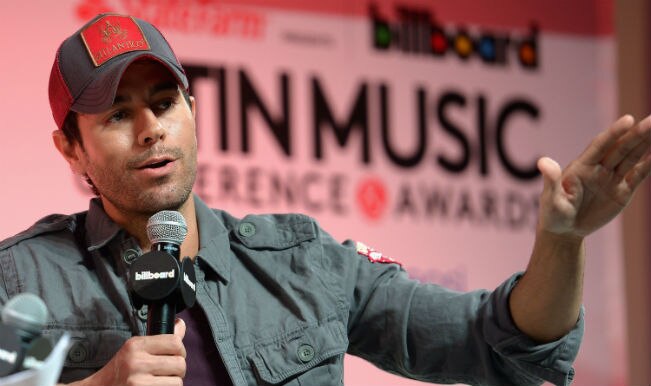 We do not even need to introduce this international pop sensation who is turned 39 today. This "Bailamos" and  "Addicted" singer is a brand name in himself.
Born in Spain,1975 , Enrique was the son of a popular Spanish singer Julio Iglesias. Iglesias grew up mostly in Miami and began singing as a teenager. He released his self-titled debut album in 1995 and, like his subsequent studio works, proved to be a huge success. By early 2012, Iglesias had sold more than 60 million records worldwide. The Spanish Star had charmed most of the world by his music before he even turned 35 most and his most successful songs include "Bailamos," "Rhythm Divine," "Be With You," "Escape," "Maybe," "Don't Turn Off The Lights", "Taking Back My Love" and "Hero."But even after such stardom, there are certain things about Enrique that not people know. (Read: Top 5 of the worst International music videos of the world)
1) Enrique Iglesias's father, pop star Julio Iglesias, was the best-selling Spanish singer of all time. Hence Enrique changed his name to Enrique Martinez, while sending his demo tapes to record companies as he didn't want to get a record deal because of his father's name.
2) Enrique removed his trademark mole on his right cheek after a doctor told him it could become cancerous.
3) While touring, Enrique Iglesias and his entourage regularly played practical jokes on one another. "We played a trick on one of our guys from our record company," he recalls. They had left him naked in the hallway outside their hotel room, then called security and told them there was a crazy man outside their door.
4) Enrique's success in India is so phenomenal that is part of his official biography. His first two releases sold two lakhs (0.2 millions) each, and he is considered to be the largest selling international artist of all time in India.
5) He studied business administration at Miami University before he dropped out to pursue a singing career.
6) He once collided into a mangrove tree while water-skiing. It took over 40 stitches to close the wound behind his ear