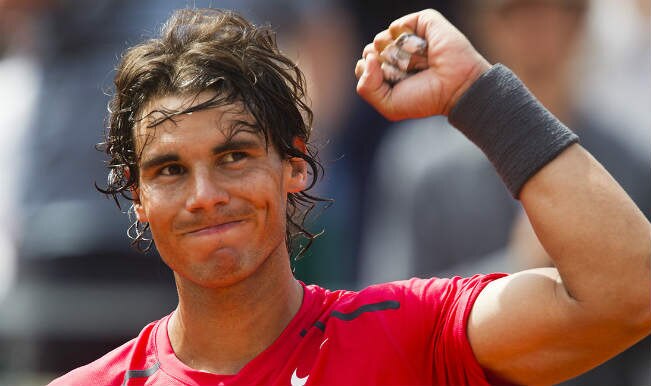 Top ranked Rafael Nadal considered as ''King of Clay'' has made it to yet another French Open final and will face his all-time rival Novak Djokovic. Rafa defeated Andy Murray in straight sets (6-3, 6-2, 6-1) in semi-final to book place in what will be his ninth final at Roland Garros. Here are five facts about the swashbuckling Spaniard
1) At the age of 24, Rafael Nadal completed the career Grand Slam and became the youngest in the history to achieve the feat. He is the second male player after Andre Agassi to complete singles Grand Slam
2) Rafael Nadal has won eight French Open titles. He won consecutively for four years from 2005-2008 and then again for four years from 2010-2013 on trot. In short he has never lost in French Open finals and maintains 8-0 record.
3) Defending Champion Rafa has notable 65 wins at the French Open against lone defeat in 2009 (lost to Robin Soderling). He will be playing his 20th Grand Slam final.
4) After the victory against No. 7 Andy Murray in semis Rafa has now won 34 consecutive matches at Roland Garros.
5) Rafael Nadal has squared off against Novak Djokovic 41 times with Spaniard having 22-19 overall lead. Nadal leads on grass (2-1) as well as clay (13-4) while Djokovic leads on hard courts (14-7).