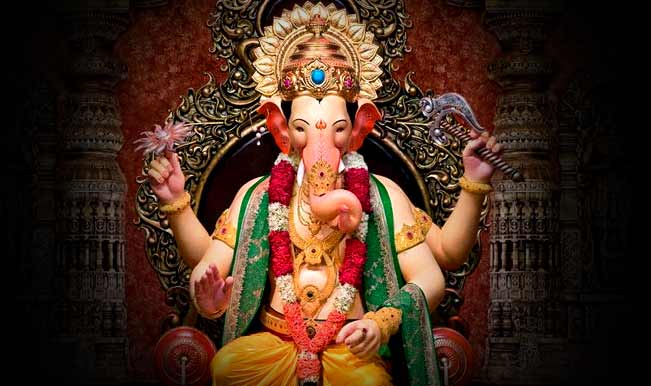 The chants of Ganapati Bappa Morya is already in the air as the 10-day long festival of Ganesh Chaturthi marks its beginning for the year 2014 on August 29 and like every year, the festival of Lord Ganesh will be celebrated with fervour throughout the country. There is a special feeling in the air as Ganesh Chaturthi that is more than a ritual or festival marks the importance of celebration in the honour of Lord Ganesha – destroyer of obstacles. Everyone including family, friends and all the devotees make a point to wish good luck to their near and dear ones as Lord Ganesh is symbolic to success and prosperity. Thanks to modern technology, with platforms like SMS, WhatsApp, Facebook and various messaging services, you can send messages to your loved ones on the Ganpati Festival with ease.
The festival is celebrated in the honour of Lord Ganesha – destroyer of obstacles and the vitality is most prominent in the state of Maharashtra. Ganesh Chaturthi or Vinayaka Chaturthi as also known to be starts on the Shukla Chaturthi and the festival lasts for 10 days, ending on Anant Chaturdashi. This is a special time when family and friends get together and perform Ganesh Puja. As the auspicious days are round the corner, it is also the best time to wish your near and dear ones who somehow are far from you and here for your convenience we have lined some of the best messages that you can consider sending across.
1. Wishing you happiness as big as Ganesh's appetite, long life as his trunk
Trouble as small as his mouse and moments as sweet as his laddus
Sending you wishes on Ganesh Chaturthi!
2. May Lord Ganesha bestow you with eternal bliss, peace and contentment! A very happy and blessed Ganesh Chaturthi to you and your family!
3. Ek Do Teen Char Ganapati Ji Ki Jay Jay Kaar Paanch Chhai Saat Aaath Ganapati Ji Hai Sabke saath Happy Ganesh Chaturthi
4. I know that Ganesha is happy with me…
For he has made my life so rich
with a friend like you.
Happy Ganesh Chaturthi
5. May Lord Ganesha come to your house and take away all your Laddus and Modaks with all your worries and sorrows. Shubh Ganesh Chaturthi.
6. Celebrate Ganesha Chaturthi the Festival of Lord Ganesha.
Spread the message of honesty and love through this world
on this day when Lord Ganesha ascended on this earth to kill evil.
7. Hoping this Ganesh Chaturthi will be the start of year that brings happiness for you, fills your home with…prosperity & fortune… Best wishes on Ganesh Chaturthi.
8. Aate bade dhoom se Ganpati ji,
Jaate bade dhoom se Ganpati ji,
Aakhir sabse pahle aakar,
Hamare dilon me bas jate Ganpati ji.
Happy Ganesh Chaturthi!!!
9. May The Lord Vighnavinayaka remove all obstacles and shower you with bounties. Hope Lord Ganesh visits you with lots of Luck and prosperity Have a great Ganesh Chaturthi Utsav.
10. Bakthi Ganapathi..
Sakthi Ganapathi..
Siddhi Ganapathi..
Lakshmi Ganapathi..
Maha Ganapathi..
May this Ganesh Chaturthi brings you
Bakthi, Shakthi, Siddhi, Laskhmi and Maha samriddhi.
Ganesh Chaturthi is significant festival in India with Lord Ganesh, son of Goddess Parvati and Lord Shiva is symbol of wisdom, prosperity and success. Lord Ganesh is considered as "Vigana Harta" – the mighty one who removes obstacles and "Buddhi Pradaayaka" – the one who grants intelligence.