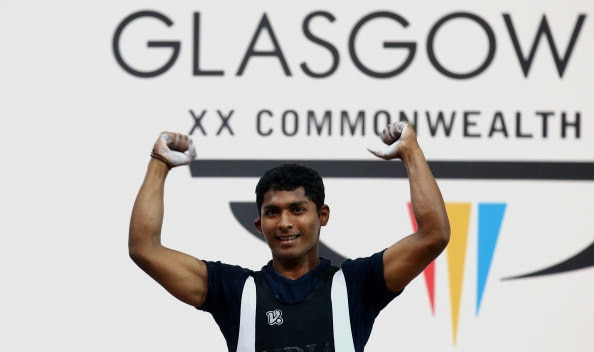 India has done pretty well so far in the Commonwealth Games 2014 in Glasgow and is currently at the fifth position with 22 medals. So far all the news and the story of the games for India have revolved around more flamboyant and renowned athletes like Abhinav Bindra, PV Sindhu, Sushil Kumar and Vijender Singh. However, there is more to India's medal tally that catches eye. It's the contribution of those athletes who have defied all odd and challenges to achieve podium finish.
Let's now look at the 5 Indian Athletes who have overcome numerous challenges to win medal for the country in Glasgow –
1. Ganesh Mali – This 21-year-old youngster who is competing in his first Commonwealth games won a bronze medal for India in 56 kg men's weightlifting event. He comes from Kurundwad village of Kolhapur, Maharashtra and is from a very poor family background. His father, Chandrakant Mali is a daily wage worker and Ganesh himself worked in the farm on weekends to earn money so that he could support his family and could spend some money on his diet and training. He took to sport in the year 2006 when he was 12 years old.
2. Prakash Nanjappa – Prakash who won a silver medal for the country in men's shooting in the 10 metre air pistol event, suffered a paralytic attack last year in the right side of his face during the World Cup in Granada, Spain. The incident left the shooter in shock, however he fought back with bravery to counter this illness and win the medal for nation. It is worth noting that Prakash Nanjappa still uses eye drops to counter dryness in his eye. His is a truly inspirational story!
3. Santoshi Matsa – The 19-year-old Santoshi did India proud by winning bronze medal in 53 kg women's weightlifting discipline. She hails from Kondavelagada village in Nellimarla mandal, Andhra Pradesh and comes from poor economic background. Her father, Satyam Matsa, is a worker in Jute Mill and in spite of his struggling financial conditions he supported his daughter passionately to pursue the sport. Santoshi took her weightlifting training in the village itself, as she had no money to get trained in Vizianagaram city.
4. Anisa Sayyed – The achievement of this 33-year-old lady is truly magnificent and deserves appreciation. She has done the country proud by winning silver medal in women's shooting in the 25 metre pistol category in 2014 CWG. It is the third medal in Commonwealth games for Anisa, who earlier won 2 gold medals in the 2010 Delhi CWG. Hailing from a lower middle class and conservative Muslim family in Pune, she is now settled in Mewat after marriage, a regressive region in the Haryana-Rajasthan border. She has overcome several challenges such as being jobless since 2010, poor financial conditions, an expensive sport in the form of shooting, lack of training facilities, etc. to succeed at the highest level. Anisa's husband Mubarak Hussain is her great support and stood by her in tough times.
5. Sanjita Khumukchan – This 20-year-old Manipuri girl brought laurels to the country by winning gold medal in 48 kg women's weightlifting event in the 2014 CWG in Glasgow. Her efforts need special mention as she was making a comeback into international arena after a gap of 2 years due to injury. She also has the distinction of winning the first medal for India in 2014 CWG.
Get Commonwealth Games 2014 Complete Schedule of Indian Players Here