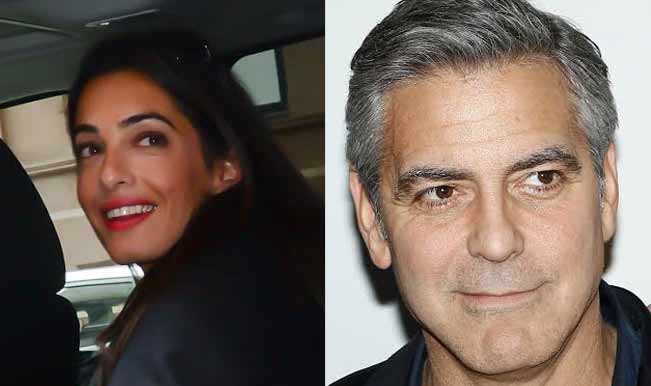 The year 2014 has been a great year for engagements and marriages in the Celebrity zone. As everyone from Rani Mukerji and Aditya Chopra to Sameera Reddy tying the knot this year, there have been some engagements that broke millions of hearts worldwide. Here are the top 5 engagements that broke the hearts of millions of female fans.
George Clooney and Amal Alamuddin
This Hollywood star broke millions of hearts when he came out and announced his engagement to British laywer, Amal Alamuddin, last weekend. Alamuddin, 36, was spotted last week wearing a large ring at a Los Angeles restaurant where she and George Clooney, 52, were apparently celebrating their engagement with friends.
Ashton Kutcher and Mila Kunis 
Ashton Kutcher – this handsome hunk, who makes women worldwide drool is all set to tie the knot with Mila Kunis. The couple are also expecting their first child and the engagement took place in the beginning of the year according to sources. The former That '70s Show costars and longtime friends first went public with their relationship in spring 2011.
Johnny Depp and Amber Heard
Johnny Depp announced his engagement to co-star Amber Heard. He was spotted wearing a woman's engagement ring on his left hand. Heard, a 27-year-old Texas native, co-starred with Depp in 2011′s "The Rum Diary." The following year, Depp split from his long-time partner, the French actress Vanessa Paridis, with whom he has two children.
Emma Stone and Andrew Garfield
It was love at first sight when 25-year-old Stone and 30-year-old Garfield met on the set of The Amazing Spider-Man over two years ago. The couple are discussing about getting married, however given their tight schedules, it will surely take some time.
Evan Peters and Emma Roberts
Evan Peters, 26, and Emma Roberts, 22, have only been together for a little over a year but their love so powerful that it shows everywhere they go! The couple announced their engagement in late January this year and hope to tie the knot soon.