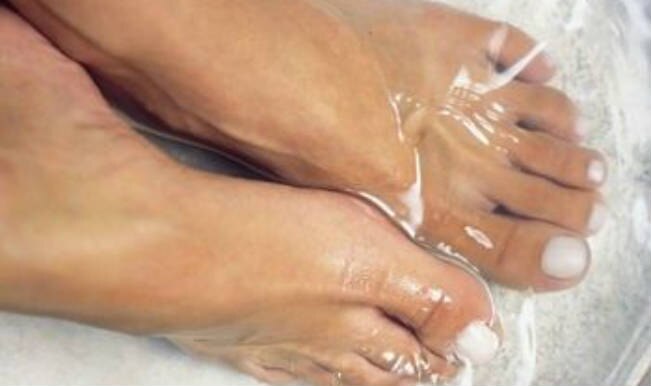 Picture Courtsey: Pinterest
It has been raining cats and dogs in several parts of India and how! It seems like the rain God has finally answered our prayers and after a scorching June, the much- awaited monsoon season is finally here. Undoubtedly, monsoon is the most romantic season ever, but we cannot deny the fact that travelling during during heavy rains can be extremely troublesome and unmanageable.
As the monsoon has paved its way in India, on one hand everything around looks splendidly beautiful- the weather, the climate leaving us spellbound; while on the other hand the roads are full of muck and dirt.  In such a situation, stepping out becomes a huge problem as your feet are exposed to filth and mud all the time, thereby making your feet an easy target for infections and other skin problems.
As a matter of fact, most of us think that it is generally our skin and hair that suffer the most and fail to care for our feet, which actually suffers the most due to constant wateriness and humidity which usually gives rise to several fungal and bacterial infections. Hence, we bring to you 6 basic tips that will help you keep your pretty feet clean this monsoon. Have a look!
1. Make it a point to wash your feet with clean water mixed with any antibacterial soaps like dettol or savlon after getting them wet in the rain.
2. Ensure that you don't keep your nails too long during the monsoon season. Long nails attract muck and bacteria thereby leading to fungal infection in the feet.
3. Most importantly, exfoliate, scrub and moisturize your feet before going to bed to kill bacteria growth.
4. Refrain from wearing plastic shoes, leather or canvas ones and istead opt for slippers and flip-flops as they let your feet breathe.
5. Go in for a pedicure every fortnight so that your feet stay clean and smooth.
6. Try some DIY Foot Masks- Here is one: Give your feet some much-needed TLC with this home-made mask for the feet:
You need: 1/2tsp oatmeal, 1/2tbsp cornmeal, 1/2tbsp sea salt, and body lotion to create a paste. Mix all the ingredients and form a paste-like consistency. Apply on your feet immediately and gently massage. Wash with warm water.