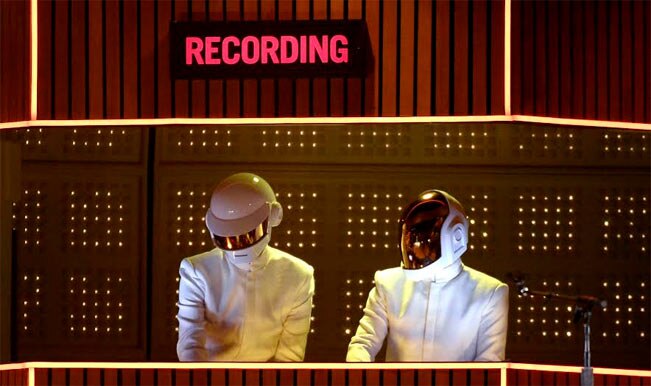 Daft Punk, the electronic music duo from France, won four Grammy Awards this year. Their album "Random Access Memories," released in 2013, won awards for best album and best electronica album. The helmeted duo also received the award for Best Pop Duo/Group Performance and Record of the Year.
The reality is that Daft Punk have always been reinventing themselves with time. The pioneers of house music have what it takes to be special and they also avoid the trappings of fame with their typical anonymity. Daft Punk also has the wildest of the wildest beliefs such as – when it comes to music, love is better than sex. By now most people have heard of Daft Punk cause of their futuristic sound. Here are their top 6 songs:
1- Get Lucky (from Random Access Memories, 2013): Daft Punk's latest album – Random Access Memories brings a new age sound for them and 'Get Lucky' is just too smooth. Pharrell with his soulful vocals makes it a perfect song to cruise on.

2- Harder Better Faster Stronger (from Discovery, 2001): Lot of people don't know it but this song was born before Kanye West's hit song "Stronger". The cool part is that the beat itself becomes harder, better, faster and stronger.

3- Da Funk (from Homework, 1997): This instrumental track by Daft Punk combines well with the iconic video. The man wearing a dog mask in the video represents someone in society, giving the video a very Kafka-esque feel.

4- One More Time (from Discovery, 2001):This is in all actuality is Daft Punk's most iconic and song. The track is has the power to make people happy.

5- Around The World (from Homework, 1997): The bass line here – 'round the world from with the occasional sweep of a jet taking off effect, the mummies and skeletons who have an iconic dance routine and the synchronized keeps everything simple yet effective.

6- Digital Love (from Discovery, 2001): Daft Punk takes the chorus to heart and make their dreams come true with this dance song. The sound of the Wurlitzer electric piano is just perfect to combine with the groovy beat to give it somewhat a retro feel.