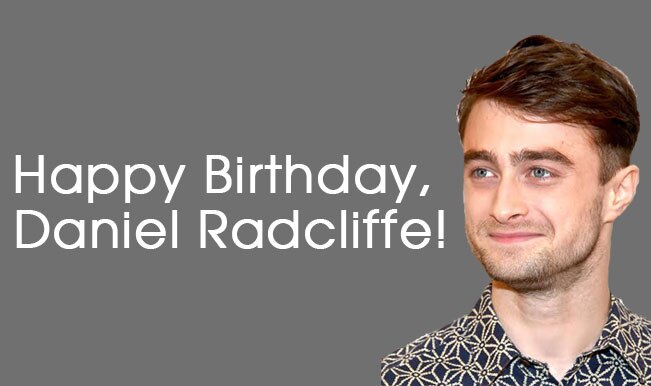 Popularly known as Harry Potter, Daniel Jacob Radcliffe was born on the July 23, 1989. The 24-year-old star rose to fame at age 11 when he was cast as the main lead in the first Harry Potter film, and starred in the series for the next 10 years until the release of the eighth and final film in 2011.
The film adaptation of J K Rowling's popular novel Harry Potter made Daniel win worldwide appreciation and accolades for his performances. The talented actor has been awarded with a couple of awards like Youth Male Discovery of the Year (2001), and Choice Summer Movie Star: Male.
The handsome actor made his first onscreen appearance at the age of 10, on BBC's televised version of the Dickens novel David Copperfield, followed by his first film appearance, as Mark Pendel in The Tailor of Panama in 2001. In 2008, Daniel, who prefers being called Dan, revealed that he has dyspraxia, which is a developmental issue that makes it hard for him to do certain things.
As Dan turns a year older today, we bring to you top 10 best quotes by the Harry Potter star. Enjoy reading!
1. "I used to be self-conscious about my height, but then I thought, f**k that, I'm Harry Potter."
2. "Fans are really important for me. And if they take pains to write me, it's the minimum that I answer myself."
3. "I think honesty is the most heroic quality one can aspire to."
4. "Go boldly and honestly through the world. Learn to love the fact that there is nobody else quite like you."
5. "I'm an atheist, and a militant atheist when religion starts impacting on legislation."
6. "Being in Harry Potter is like being in the Mafia. Once you are in, you are never really out."
7. "I'm getting better now, but I used to be incredibly awkward with girls…. I think any guy who says 'I've never had an awkward moment with a girl' is a liar."
8. "As much as I would love to be a person that goes to parties and has a couple of drinks and has a nice time, that doesn't work for me. I'd just rather sit at home and read, or go out to dinner with someone, or talk to someone I love, or talk to somebody that makes me laugh."
9. "Some people think I am gay, which I think is awesome."
10. "I'm not an easy person to love. There are lots of times when I'm a very good boyfriend, but there are times when I'm useless. I mean, I'm a mess around the house. I talk non-stop. I become obsessed with things."