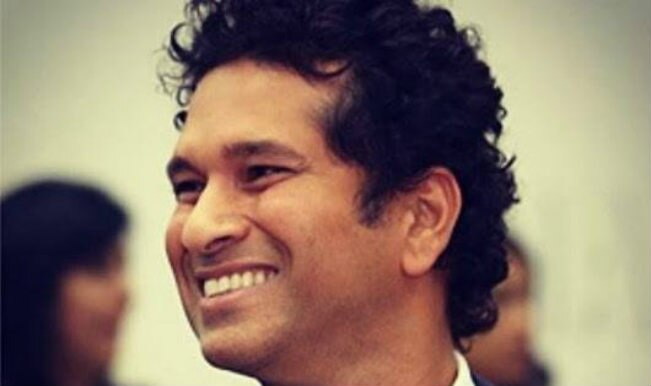 Master Blaster Bharat Ratna Sachin Tendulkar turns 42 on April 24, 2015. Born on this day in 1973, in a middle class Maharashtrian family, Sachin Tendulkar took retirement from international cricket after playing his 200th Test on November 17, 2013. The Rajya Sabha MP is now working on causes close to his heart and is also chief mentor of IPL franchise Mumbai Indians. Tendulkar is also co-owner of Indian Super League (ISL) football franchise Kerala Blasters.
We take a look at 19 interesting things about the greatest batsman of the modern day cricket – Sachin Tendulkar on his 42nd birthday:
1. Sachin Tendulkar was born in a Maharashtrian family. His father Ramesh Tendulkar was famous Marathi novelist and was married twice. He has three elder siblings.
2. Sachin Tendulkar was named after his father's favourite music director Sachin Dev Burman. (See Pics: Rare pictures of Sachin Tendulkar with his family)
3. Sachin Tendulkar was an avid fan of tennis legend John McEnroe. He had styled his hair just like McEnroe.
4. Sachin Tendulkar was the highest run-scorer in the 1996 World cup, incidentally he was without a bat contract during the tournament.
5. Sachin Tendulkar is said to be a little superstitious as he always takes the left window seat of the front row in the team bus.
6. Sachin Tendulkar fielded for Pakistan side as a substitute during one of the one-day practice match against India at Mumbai's Brabourne Stadium in 1988.
7. Sachin Tendulkar once went to watch the movie Roja in 1995 in a disguise. But unfortunately, he was caught and the audiences were in for a pleasant surprise.
8. One of the greatest batsmen in the world, Sachin Tendulkar had quite an awful start of his one-day career, as he scored a duck on his ODI debut against Pakistan at Gujranwala on December 18, 1989.
9. Sachin Tendulkar at the age of 19 became the youngest Indian to play in the county cricket.he played for Yorkshire.
10. Sachin Tendulkar preserved his first Test man of the match in 1990, that of a Magnum Champagne for eight years. He finally opened it on his daughter Sara's first birthday.
11. Sachin Tendulkar has scored a century in his debut matches of Ranji Trophy, Irani Cup and Duleep Trophy.
12. Sachin Tendulkar and Vinod Kambli set a world record partnership of 664 runs in the Harris Shield, an inter-school tournament in Mumbai.
13. Sachin Tendulkar scored his first ODI century after 79 matches. He scored his first ODI century on 9 September 1994 against Australia
14. Sachin Tendulkar made his Test debut in 1989 against Pakistan in Karachi. While from the other side Pakistani pacer Waqar Younis also made his debut.
15. Sachin Tendulkar was the first cricketer to be given coveted Rajiv Gandhi Khel Ratna award.
16. Sachin Tendulkar is right handed batsman and bowler, but uses his left hand to write. (Watch: Sachin Tendulkar emotional farewell speech)
17. Sachin Tendulkar has appeared in an Australian reality TV series 'An Aussie Goes Bolly' in 2008.
18. Sachin Tendulkar is the first batsman to score double century in One Day Internationals.
19.  Sachin Tendulkar is the recipient of Bharat Ratna – India's highest civilian award.
Sachin Tendulkar is a record in itself. Thousands records broken, new ones made but one thing that remained constant was the love for the God of Cricket in every Indian's heart. We wish Sachin Tendulkar a happy birthday.