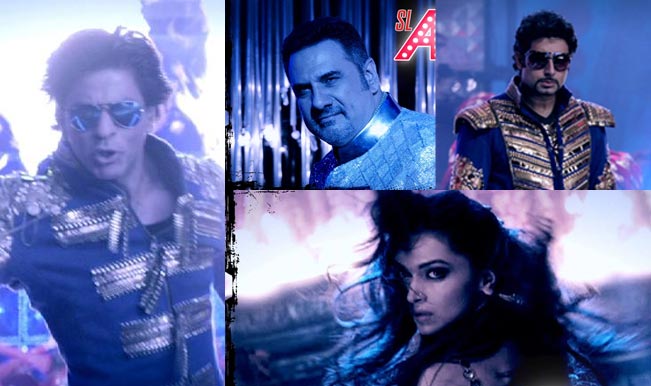 The most-awaited Shahrukh Khan movie of the year, Happy New Year, is about to release on October 23. In fact three months before its release, the movie has created enough buzz to get the 'blockbuster' tag. There are many rumors flying about the plot of the movie. According to our sources, below are the 5 things you must know about the movie.
**SPOILER ALERT**
1. Shahrukh Khan's character:
Shahrukh Khan will be seen in the character of a master-mind hacker named Charlie. He will play the role of a fearless thief who will lead the troop for a major heist.
2. Music:
Happy New Year's music has been composed by Vishal-Shekhar. They have composed many chartbuster songs for Shahrukh Khan and are expected to do the same with Happy New Year. The music album will contain 8 songs and it is said that the album will be one of the finest in recent years. The album will be a perfect mixture of party and romantic songs. The party section will be looked after by Mika Singh and Yo Yo Honey Singh having one track each. Arijit Singh and Sonu Nigam will lend their voice for romantic numbers having single track each.
3. Dance:
The most unusual thing about the movie is that it is has a much talked about 20 minute dance sequence. It is said that Happy New Year will have a dance sequence which will be approx 20 minutes long. Farah Khan along with herself has roped in renowned dance choreographers of Bollywood. This is said to be the most memorable dance sequence to happen in Bollywood.
4. Deepika Padukone and Malaika Arora Khan's item number:
After shaking her booty in Dum Maaro Dum, Deepika Padukone is back to allure her fans with her dance moves. Malaika Arora Khan is also said to perform an item number for Happy New Year. These two hotties will soar the temperature providing a treat to watch for their fans.
5. Slow Motion dance choreographed by Raghav 'Crockroaxz' Juyal:
After amassing great popularity from Dance India Dance, Raghav Juyal known as the King Of Slow Motion will choreograph a special slow motion song for the lead pair. Popularly known as 'Crockroaxz', Raghav Juyal rose to prominence after his abstract form of 'Slow Motion' dance.