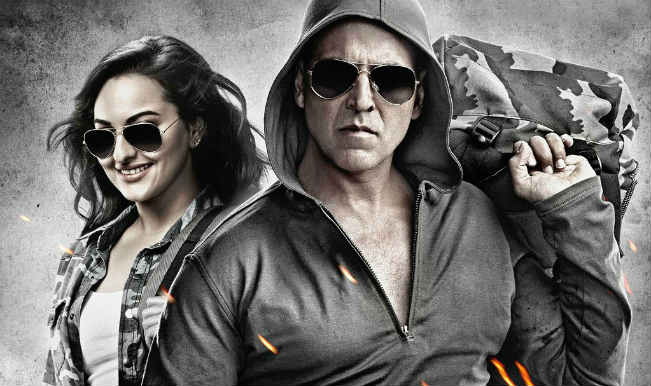 Holiday: A Soldier Is Never Off Duty, this remake of the 2012 Tamil film Thuppakki recently hit the screens. Although the trailers did not seek much attention and the promotions managed to get this movie some recognition, the movie on the whole turns out to be a complete delight. Directed by A R. Murugadoss, who also directed the original, the movie completely entertains and keeps you on the edge of your seats. Here are five reasons why you should not miss this flick.
1. Akshay Kumar
He defined action heroes with his Khiladis and he redefines it with this movie. After some wrong choices in the industry, the master of action is back in the movie and exhilarates every time he comes on screen. He plays the role of a charming and disciplined Army officer to perfections and wins millions of hearts with his performance.
2. The Story
If you are the freak who is excited by thrillers and enjoy intelligent stories more than entertaining and senseless movies, this is tailored for you. From the entry of Akshay Kumar and the beginning of his holiday to the climax, this movie is packed with thrills and gives you the chills.
3. The Action
It is Akshay Kumar and it is obvious that there will be bones that are broken and blood that will paint the whole town red, however this remake of a South film DOES NOT have any flying cars or flying humans or rather any flying objects. Giving a realistic approach to the fight sequence makes the action in this movie stand out and also helps you enjoy every bit of it. Also there is less of drama and more of brain work as each and every kill makes Akshay look like a cold blooded murderer.
4. Sonakshi Sinha
Yes you read it right. It is Sonakshi Sinha. She has been ridiculed for her size and acting skills but she shines in this movie, having shed some weight and playing the role of a sportswoman to perfection, she adds the tinge of romances that makes this a more Bollywood movie. Although her sole aim in the movie is to get some action with AKshay, she carries it off and makes you fall in love with her in the small part that she plays. Tough the first song portraying her as a CHAMPION in every game from Rugby to Boxing stretches things a bit, the later parts kind of makes up for it.
5. The effects
Every effect from the first boxing match to bomb blasts, make you believe that you are watching a Hollywood flick. The quality of direction and special effects give Bollywood a new high and makes your experience exactly what it should be. This movie gives you the A to Z of Bollywood and more in less than three hours.