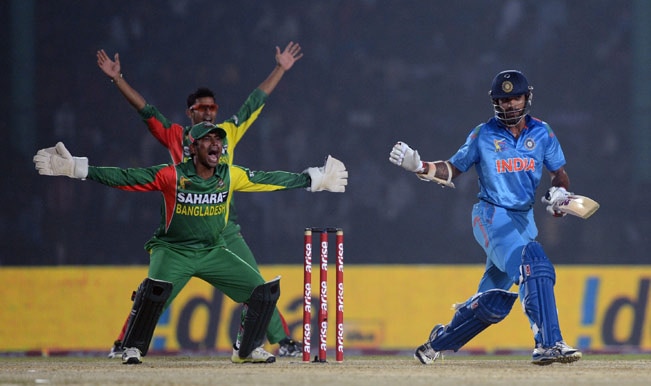 The Indian team came to Bangladesh to participate in the Asia Cup suffering two back to back series losses at the hands of South Africa and New Zealand, wherein they didn't even manage to win a single game. This team came in with couple of big changes and there were a lot of things to look forward to.
For the first time Virat Kohli lead India in a major tournament and people have been talking about the young batsman as a future captain prospect. All the eyes have been set on India's first match with Bangladesh, the same team that was responsible for India's early exit in the last Asia cup. So let's take a look at the five top reasons why you shouldn't miss this match.
1- Bhuvaneshwar and Mohammad Shami's opening spell: both the opening bowler's from India bowled a wonderful line and length and kept creating chances. It was quite refreshing and great to see both the quickies bowling well in tandem. Bhuvaneshwar Kumar seems to have found his rhythm and confidence back playing in the sub continent.
2- Mushfiqur Rahim: They say big things come in small packages, and every bit of that saying is true for this little master from Bangladesh. This was just an amazing innings from one of the most talented small man in the game.
3- To find the reason why India should work on their current breed of fast bowlers. The one's who can bowl fast are not consistent and the one who are consistent and not quick enough to create a difference. Your biggest example, Varun Aaron.
4- Virat Kohli and his temperament while chasing a score: Whenever this man comes in to bat I always remember that scene from avengers when tony stark say's we have the hulk in response to Loki's warning about a huge army. The only difference is that we have Virat and the huge army is the total's that the opposition teams post.
5- Ajinkya Rahane: He showed today why he is considered as one of the most talented young players in the game today. He is cool, calm, composed and has a steady head over his shoulder. He just kept about doing his work while kohli was killing them at the other end.
The only positive for Bangladesh with the ball was the left arm spinner Abdur Razzaq who bowled brilliantly with new ball.
India won the match by 6 wickets with an over to spare. This was their first victory after 8 matches. Virat Kohli won his sixth consecutive game as a captain. He also established the fact that there is not a better chaser in the game right now, scoring his 13th century in a chase 12 of which India has won. They would like to continue this form when they meet Sri Lanka in their second game on Friday.
By Abhimanyu Shahi