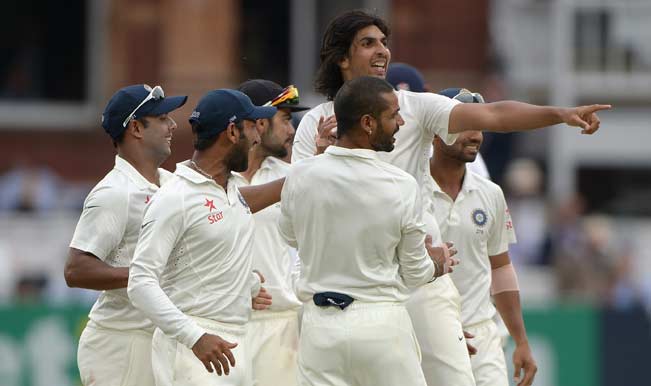 India's disastrous batting performance continues and for one more time this series team's total failed to cross 200-run mark. England bowlers werespot-on with their line and length to see the famed Indian batting line-up crumble again. MS Dhoni, as has been the case lately stood tall alone and was the only noticeable performer in the India's 1st innings. As India were bundled out for a modest total we take a look at some interesting stats.
1 -Ajinkya Rahane for the first time in his short Test career of 10 matches so far(18 innings) was dismissed for a duck.
4-India for the fourth consecutive time in this series were bundled out under 200. 178 in 2nd innings of the third Test, 152 and 161 insuccessive innings ofthe fourth Test are the previous three team totals of India.
6 – Gautam Gambhir for the sixth time was dismissed for duck. He was out on the very first ball he faced and that happened first time in his Test career.
32 – Indian openers now in 32 consecutive innings outside India have not managed to stitch a fifty-run partnership. Last time openers' put-on a fifty or more run stand outside India was in 2011, Abhinav Mukund and Gautam Gambhir were the openers then.
55.41- MS Dhoni contributed 55.41% out of India's 148. He scored 82 runs which was his fourth half-century in this series.
58 – MS Dhoni and Ishant Sharma shared 58 runs for the last wicket between them. It has happened for the first time that last pair of Indian batting has scored 50-run partnershipafter losing nine wickets for less than 100 runs.