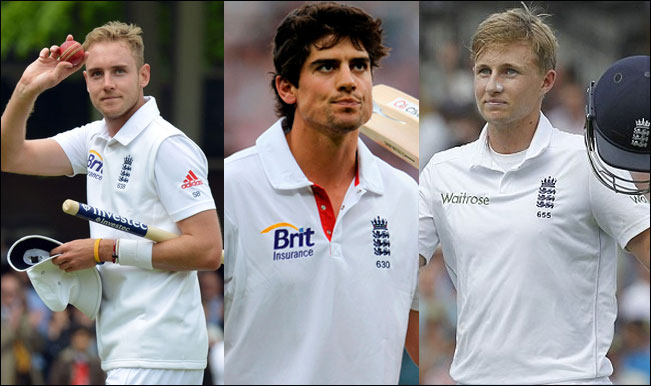 With first of the five match series ending in a draw, the action and attention now shifts to Mecca of cricket Lords. Both India and England fought back alternatively at Nottingham on a wicket which was flat and had little for bowlers. As the reports from England suggest the pitch at Lords has a tinge of greenish nature to it and if it is kept as it is batsmen will find it hard to score while seamers will cherish bowling. The home team will be eager to go one up in front of the home crowd. Here we take a look at five England players who can make things difficult for the visiting team in the second Test.
Joe Root: From England's perspective Joe played a match saving innings of unbeaten 154 and shared a record last wicket partnership with James Anderson in the first Test. He will be upbeat for remainder of the series and going back to England vs. Sri Lanka Test series last month, Root scored an unbeaten double hundred at this very venue. The 23-year old is a steadfast customer and hardly throws his wicket away. At Lords in three Test Matches he has scored 512 runs so far and will be itching to add more.
Alistair Cook: England captain may be going through the bad phase of his career and currently struggling with the bat, but expect a player of his calibre to be bounce back and be amongst runs sooner. Cook knows his importance and it is pivotal for a team that captain should lead from the front and that is what he will be eyeing.
Stuart Broad: He was the highest wicket taker when India toured England last time and almost produced a match winning spell at Nottingham in 2nd innings. He can be very lethal if conditions assist bowlers at Lords. Broad is also handy when it comes to batting, he can score some quick-runs down the order as he did in the first Test.
Sam Robson: This Australian-born England opening batsman had a good opening Test considering he lost his partner Alistair Cook very early and restructured the England innings along with another young batsman Gary Ballance. Robson looked composed during his knock of 59 and will look to continue the good for he is in. He made his debut at Lords last month against Sri Lanka but managed to score only 20 runs in both the innings, he followed it up with century at Leeds in his second Test.
James Anderson: England spearhead may face a ban after his alleged altercation with Ravindra Jadeja but he is most likely to feature in England's line-up for the 2nd Test. Man of the match for last test Anderson will be buoyant to do well at Lords and now after being involved in a spat he will be charging at Indian batsmen. He remains the biggest threat for India on this tour and it remains to be seen whether he is banned or not.