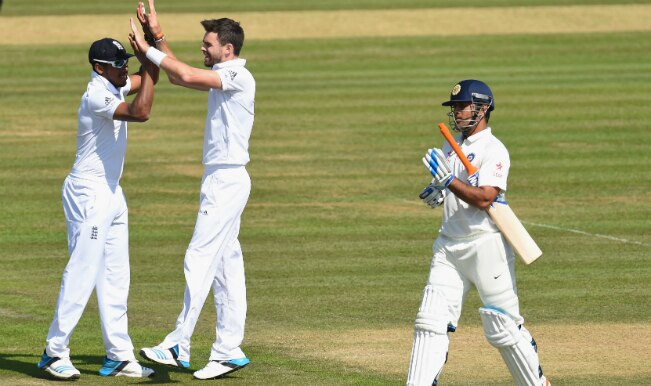 After conquering Lords, India came into the third Test with momentum on their side and England were already under the pump. In 13 sessions of play England never let India off the hook and completely dominated the proceedings to level the five match series 1-1. Ajinkya Rahane once again showed that he has the temperament and ability to withstand any challenge while Man of the match in Lords Test Ishant Sharma's absence was felt in the bowling department. As India fail to maintain a lead, we take a look at five negatives for Team India in the third Test.
Shikhar Dhawan and his misery with bat:12, 29, 7, 31, 6 and 37 is what Shikhar Dhawan has managed to score in six innings this series. These figures look like the scores of a tail ender but appallingly these belong to India's Test opener. With experienced Gautam Gambhir waiting in the wings Dhawan had no option but to step-up his game. In each of his innings Dhawan never looked at ease and in 2nd innings of Third Test when India needed him to stay firm he once again fell apart. There is certainty nowthat he will be axed for the fourth Test and replaced by Gautam Gambhir.
Virat Kohli not at his best: Few months back Virat Kohli was on song and like every player he too is witnessing a bad patch, but with player of his ability you expect him to bounce back quickly. Kohli in six innings has scored only 101 runs at a feeble average of 16.83 with 39 being his highest. Kohli looked good early on in both the outings at Southampton, but then his lapse in concentrationbrought his downfall.He is a potential game changer but on England soil Kohli continues to struggle.
Rohit Sharma lacked temperament:Rohit Sharma may be one of the best stroke makers in limited overs cricket but it needs alteredset of skills to play Test cricket, temperament is one of them. His brain fart in 1st innings to go against spinner Moeen Ali just at the brink of Tea led to his dismissal at a crucial point. He was going along nicely with Ajinkya Rahane holding at the other end but he once again as he does usually threw his wicket away. Playing an extra batsman in the third Test did not work according to India's strategy as on day five he was the first wicket to fell without showing any kind of resistance and now his place in the team is questionable.
Ravindra Jadeja misses the zing:Ravindra Jadeja's inability to pressurise England in third Test has opened up the debate is he a better pick than regular spinner Ravichandran Ashwin. India needs Jadeja more as a bowler than a batsman, but the left-hander has failed to live up to expectations. England's Moeen Ali may be rated as part-timer but he has been a revelation by picking 15 wickets so far and every time he comes to bowl he surprises with a wicket while Jadeja has been missing the zing. Ashwin too has struggled overseas but that is past and his variations any day make him better bowler than Jadeja.
Mohammad Shami disappoints: Five wickets in as many innings reflect how weakened Mohahamad Shami has been on this tour. The kind of bowler Shami is lot depended on him especially given the conditions in England. In the absence of Ishant Sharma there was an extra bit of pressure on him to deliver but he failed and now there is question mark whether India should persist with him or bring in youngster like Varun Aaron for the fourth Test.