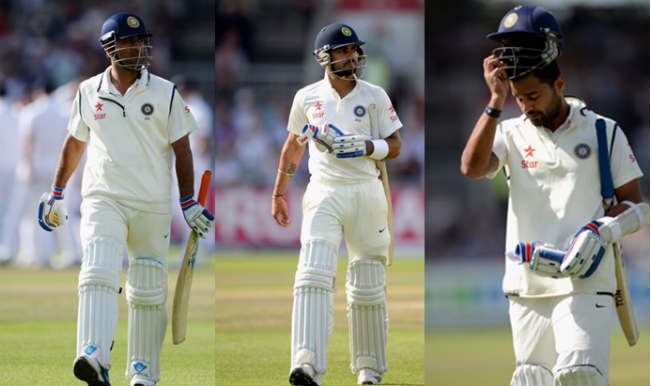 Agree! Pitch on day one of the fourth Test at Old Trafford was bowler friendly and yes Dhoni took a brave decision to bat first, but what made India crumble in the 2nd innings and go down 1-2 in the five match series with one Test left. Here is a post-mortem of India's crushing performance in 2nd innings that lead to an innings defeat.
1. The application: After failing to put on a huge 1st innings score it was expected India will bounce back and show some intent in the 2nd innings after all one of the best batting line-up in World was on display. England was already short of prime bowler Stuart Broad who took six wickets in 1st innings and that would have been good news for India, but Chris Woakes after removing the opener Murali Vijay opened floodgates and one after one India lost wickets. Batsmen lacked application to stay on wicket and looked nowhere close to try and negotiate the day with rain being forecasted on Sunday. India started their innings trailing 215 runs but never looked to cut down the deficit as top order showed once again how defenceless it can be in overseas condition.
2. Once again Indian batsmen took Moeen Ali lightly: Moeen Ali was already buoyant after scalping Cheteshwar Pujara and looked to pick wicket every time he rolled his arm. Ajinkya Rahane has been the best among Indian batsmen on this tour but the kind of shot he played is unpardonable, it was not a flashy kind of stroke but Moeen successfully tempted Rahane to drive and had him caught and bowled whereas Rahane could have easily defended given the situation he was batting in. Ravindra Jadeja may have smashed rival James Anderson for a boundary earlier but he could not save his bat from edging one to slip against Moeen. Dhoni was Moeen's fourth wicket and perhaps the most gifted one. With six wickets already down Indian Captain decided to have a go against spinner and tried to loft him but could not get to the pitch of the delivery and was caught superbly by Gary Ballance at mid-wicket. While Moeen was keeping it simple Indian batsmen were being either too defensive or aggressive against him.
3. Poor form: Four times now James Anderson has sent back Virat Kohli in this series and after each dismissal it is clear that Kohli is not at his technical best. He started his innings positively and tried to attack Moeen, but as soon as Anderson had ball in his hand Kohli could not help but poked outside off stump as he did on previous three occasions. It certainly is time for Indian to think and bring back Rohit Sharma whose form was measured by just two innings. Kohli now averages 13.50 in eight innings so far, if you cannot drop him at least drop him down in the batting order.