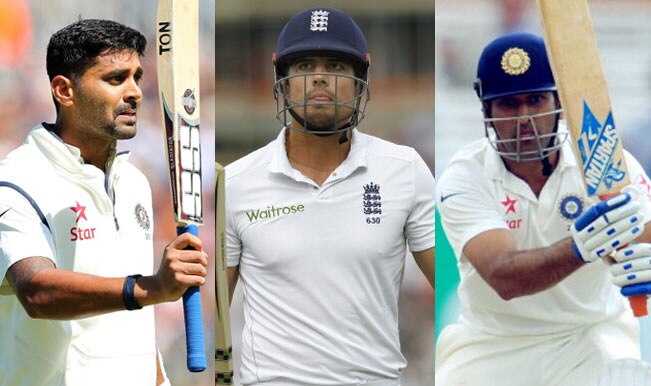 After the disastrous outing at Southampton where Indians were out batted, out bowled and out played, where they couldn't even manage to win a session against England will be looking to come back hard in fourth test match at Manchester. Most of the Indian batsman got start with 13 double digit score however they failed to convert these into big scores. The Anderson verdict could however work in the favour of visitors and could just end up galvanizing the team. After all it was not long back that the famous monkey gate incident fired the team to win the Perth Test in 2007 under the leadership of Anil Kumble.
The incident this time around is different, its magnitude is less but has gained importance with the British press going after Mahender Singh Dhoni and Co. and accusing them of cheating and sensationalizing the issue. India on their part believes they have been hard done and have been cheated. They believe England players including Matt Prior and Stokes had lied, James Anderson abused them and got away with not even a fine. No matter how much Dhoni would like to believe that the team has moved on and the focus is now on cricket it will still remain the factor. After all, it has been a long time since the team felt so helpless in the ICC and Match Referee hearings.
Let's now have a look at the 3 Impact Players who can decide the outcome of the 4th Test Match at Old Trafford:
1. Mahendra Singh Dhoni: It seems that captain cool is not in the mood of forgiving and forgetting at least this is what we can conclude from his press conference on the eve of the fourth test. Speaking on the Jadeja-Anderson confrontation he said, "If something wrong is happening, I will go against it irrespective of who is doing it. If one of my players gets fined and if he's within the boundary lines, I will definitely go and defend him. But if he crosses that line, I won't come and he will go alone and face the consequences". Dhoni also seemed furious with match referee David Boon on whom he said, "What is however very interesting is that Jadeja was fined and as I said (previously) there's not even 1 percent mistake committed from his side. So it is good for us that allegations against him were dropped based on the evidence available". If MS Dhoni get his team selection right and some runs under his belt he might well decide the course of this match. He is the X-factor for India as he is the one who has to impart the winning attitude in this team!
2. Alastair Cook: Cook riding his on his performance at Southampton where he had two good innings including 95 in the first innings will be the key to England's success at Manchester. He seemed confident on the eve of the match and this is what he had to say on the match and Anderson, "It's been a really good couple of days off the field for us, making sure that Jimmy's available to play and that the whole incident is behind us. We can concentrate on playing cricket and not having to talk about it anymore or hopefully not too much more". The England captain gave an impression that the English team would continue their sledging tactics to unsettle India and stated, "We know every time you pull on the shirt as an England player, or any international side, you are role models for anyone watching, we're all aware of that. But we also want to play competitive cricket, we don't want to be too nicey nicey, with everyone saying they're playing in the right spirit. There's always that muddied line." If India could get him out early that would really dent a psychological blow to his confidence and will also expose England middle order early in an innings.
3. Murali Vijay: The 30 year old right hand batsman can very well dictate the outcome of this match for India. Murali who has played 25 test matches and scored 1668 runs at an average of 38.79 would be looking to provide India with a solid start. He is currently the highest run getter in the series so far. With his grind, patience and ability to leave balls outside off stump he could really under the skins of English bowlers. He has so far faced the highest number of balls in the series including the highest number of dot balls. A repeat of his performance from Lord's test could do wonders for India.